Accessibility of Rotterdam
Accessibility of Rotterdam
222 Views
Accessibility of Rotterdam
Rotterdam is highly accessible by air, train, road and… water.
Read more
Rotterdam is located in the western part of the Netherlands at the river Maas. Because of modern architecture, the city is very well accessible by air, train, road and water. But it is also within the city a joy to go from place to place with the excellent public transportation facilities.
Within 30 minute distance of two major international airports
Many domestic and international destinations are close by with the train
Ferry services to Great Britain
By air
Rotterdam is very easy to get to by plane from 317 cities in 104 countries via Schiphol Airport and Rotterdam The Hague Airport: From the airport it is just a short, 30 minute, public transport ride to the city centre.
By train
It is also easy to get to Rotterdam by train. High-speed trains such as the Thalys and Intercity Direct stop at Rotterdam Central Station, as do many Dutch domestic intercity trains. Within 2,5 hours you can be at Paris, Gare du Nord. 
By road or water
It is easy to travel around Rotterdam itself by bus, car, tram, metro or water taxi. Travelling over the river is not only fast, it makes for a great incentive as well! At all the major destinations are public transport stops and taxi stands. Good to know: There are good ferry services between Rotterdam and Great Britain. Stena Line vessels sail from Harwich to Hook of Holland which is just a 30 minutes' journey from Rotterdam.
Interested to meet in Rotterdam? Contact the local Convention bureau or explore further with our venue finder.
Mr Holland knows his way around Rotterdam. He often writes about his findings on our hidden secrets or on his blog.

Read more

Find a hotel, meeting venue or conference centre in Rotterdam with the venue finder.

Read more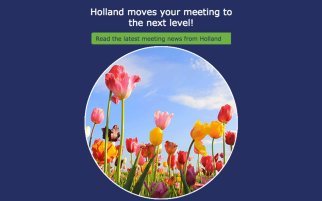 If you are interested in the latest news from Holland as a meeting destination, our Holland Meeting newsletter is perfect for you. We will keep you informed about the latest openings, best meeting deals and give you some inspiring ideas for your next meeting in Holland!
Subscribe
Let's meet at one of the Trade Shows
Team Holland is looking forward to welcoming you at the Holland stand during IMEX Frankfurt, the worldwide exhibition for meetings, events and incentive travel.

Read more

Team Holland is looking forward to welcoming you at the Holland stand during IBTM World, the leading global event for meetings, business travel and more.

Read more

Team Holland is looking forward to welcoming you at the Holland stand during IMEX America, the biggest meetings industry trade show in the US.

Read more