ACS audiovisual solutions
ACS audiovisual solutions
349 Views
ACS audisovisual solutions
Read more
ACS audiovisual solutions is a flexible, reliable and affordable partner in making every event or congress a success. ACS delivers quality driven, professional services and offers an extensive choice in image, sound, light and ICT technology. ACS operates across Europe and is the preferred supplier for a number of hotels and congress venues throughout the Netherlands. With three city locations, ACS can respond to a client's needs 24 hours a day! 
ACS advises and facilitates national and international clients in realising congresses, fairs, business meetings and events. It provides Turn-Key solutions, which include many specialist services, which are specific to the congress industry. If the congress venue you have chosen does not have the needed capacity in terms of separate meetings rooms or you need a large plenary room, ACS can construct temporary meeting rooms in an exhibition hall, foyer or stadium. Each room is fully equipped with audio-visual facilities, sound proofed and customised to your specific design and number of participants. 
For international gatherings ACS can provide translation services and voting systems where more audience participation is desired. Via our IT label Eventresult we provide smart presentation solutions for speakers, signage, webcasting and digital posters.
"Dedicated to your performance" is the promise we make With highly trained and presentable personnel, ACS has the knowledge, tools and experience to make it all happen. ACS turns every congress or event into a success without stress.
For more information please contact
ACS audiovisual solutions
Archangelkade 5a-b 
1013 BE Amsterdam  
The Netherlands
Tel.: +31 (0)20 6069 340
Fax: +31 (0)20 681 1446
E-mail: info@acsaudiovisual.com
Internet: www.acsaudiovisual.com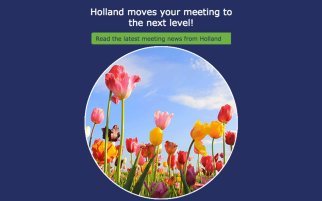 If you are interested in the latest news from Holland as a meeting destination, our Holland Meeting newsletter is perfect for you. We will keep you informed about the latest openings, best meeting deals and give you some inspiring ideas for your next meeting in Holland!
Subscribe
Let's meet at one of the Trade Shows
Team Holland is looking forward to welcoming you at the Holland stand during IMEX Frankfurt, the worldwide exhibition for meetings, events and incentive travel.

Read more

Team Holland is looking forward to welcoming you at the Holland stand during IBTM World, the leading global event for meetings, business travel and more.

Read more

Team Holland is looking forward to welcoming you at the Holland stand during IMEX America, the biggest meetings industry trade show in the US.

Read more