Discounted fares with KLM and Air France
Discounted fares with KLM and Air France
2043 Views
AIR FRANCE & KLM Global Meetings
Read more
AIR FRANCE & KLM Global Meetings offers organisers of exhibitions, conferences and events a free online tool that is unique within the aviation industry. It enables organisers to make their event more attractive to visitors and exhibitors by offering a discount of 5 to 15% on most KLM and Air France fares. In addition, the organiser can earn free tickets. 
The main benefits: 
As an organiser you can offer discounts of 5-15% on fares that event participants can easily book online. The fares are valid on all KLM and Air France flights and partner code share flights (e.g. Alitalia, CityJet, Delta Air Lines) with a KL or AF flight number. 
As an organiser of an event you qualify for reward tickets when using AIR FRANCE & KLM Global Meetings online booking tool. 
The Global Meetings discounted fares are available from five days prior to five days after the event dates. 
Global Meetings fares are available from/to any KLM and Air France destination, i.e. New York/Amsterdam, Amsterdam/London and Buenos Aires/Amsterdam. 
You can also take advantage of the Global Meetings fares when making bookings via an IATA travel agent. 
The programme is for individual bookings, not groups.
Additional information:
The event should be registered via www.airfranceklm-globalmeetings.com at least two months before it is due to start. The organiser will then receive a communication kit including a link with an Event ID code. The link and AIR FRANCE & KLM Global Meetings logos must be posted on the event website. Event participants can log in with the assigned Event ID code to book their flights. 
See www.airfranceklm-globalmeetings.com for complete terms & conditions. 
For more information please download our AFKLM Global Meetings brochure or send an email to globalmeetings.nl@klm.com.
* Subject to change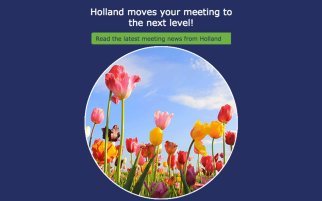 If you are interested in the latest news from Holland as a meeting destination, our Holland Meeting newsletter is perfect for you. We will keep you informed about the latest openings, best meeting deals and give you some inspiring ideas for your next meeting in Holland!
Subscribe
Let's meet at one of the Trade Shows
Team Holland is looking forward to welcoming you at the Holland stand during IMEX Frankfurt, the worldwide exhibition for meetings, events and incentive travel.

Read more

Team Holland is looking forward to welcoming you at the Holland stand during IBTM World, the leading global event for meetings, business travel and more.

Read more

Team Holland is looking forward to welcoming you at the Holland stand during IMEX America, the biggest meetings industry trade show in the US.

Read more