Eindhoven Airport terminal has landed a Tulip Inn hotel
Eindhoven Airport terminal has landed a Tulip Inn hotel
45 Views
September 17, 2013
Eindhoven Airport terminal has landed a Tulip Inn hotel
The popularity of Eindhoven is rising. Its High Tech Campus is a creative tech breeding ground and more and more business guests find their way to the city. The newly opened airport terminal landed its very first hotel right on top.
Read more
The city of Eindhoven enjoys a strong upward trend in terms of national and international fame. Once the home of Philips, the city has become an international high tech hotspot. Its High Tech Campus Eindhoven is the smartest km² in Holland with more than 100 companies and institutes, and some 8,000 researchers, developers and entrepreneurs developing future technologies and products.
As its popularity grows, so does the importance of Eindhoven Airport. The number of airlines that service this airport has increased drastically, resulting in an explosion in passengers numbers. Recently an entirely new terminal was opened, which will allow the airport to handle steady growth for years to come.
Simultaneously, the new Tulip Inn Eindhoven Airport opened its doors. Unique to this hotel is that it is situated literally on top of the departure hall, making it an ideal base for international business travelers. In addition to the 120 comfortable and fully equipped rooms, the hotel also boasts its own meeting facilities. There are four rooms which together accommodate up to 200 guests. As you may expect from any modern hotel, free Wi-Fi is available throughout.
The facade demonstrates the connection with the airport elegantly. An estimated 50,000 modern planes are punched in the metal-look facade.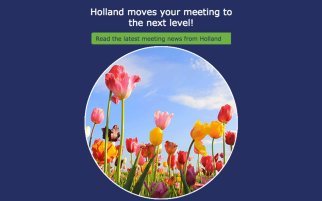 If you are interested in the latest news from Holland as a meeting destination, our Holland Meeting newsletter is perfect for you. We will keep you informed about the latest openings, best meeting deals and give you some inspiring ideas for your next meeting in Holland!
Subscribe
Let's meet at one of the Trade Shows
Team Holland is looking forward to welcoming you at the Holland stand during IMEX Frankfurt, the worldwide exhibition for meetings, events and incentive travel.

Read more

Team Holland is looking forward to welcoming you at the Holland stand during IBTM World, the leading global event for meetings, business travel and more.

Read more

Team Holland is looking forward to welcoming you at the Holland stand during IMEX America, the biggest meetings industry trade show in the US.

Read more