Facts & figures about Groningen
Facts & figures about Groningen
16 Views
Facts & figures about Groningen
Read more
Museum
Just opposite Central Station the Groninger Museum rises from the water. This eyecatching, new complex of pavillions is built around a tower. The permanent collection about the local history and the changing exhibitions of modern art are absolutely worth a visit.
Place of interest
From the top of the beautiful, six story high Martinitower you can enjoy a spectacular view over Groningen and its surroundings with its distinctive farms of the Ommeland.
Excursion
Sealshelter Pieterburen: a shelter for ill seals that have been rescued from the North Sea. The employees affectionately take care of the seals until they are well enough to be released back into the sea again.
Figures
Number of rooms in 3* hotels: 2,318
Number of rooms in 4* hotels: 1,495
Number of rooms in 5* hotels: 136

Distance to Amsterdam: 185 km
Distance to Amsterdam Schiphol Airport: 200 km
Largest venue: Martiniplaza, Groningen
Capacity of largest auditorium: 2,500 pax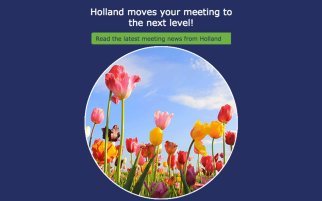 If you are interested in the latest news from Holland as a meeting destination, our Holland Meeting newsletter is perfect for you. We will keep you informed about the latest openings, best meeting deals and give you some inspiring ideas for your next meeting in Holland!
Subscribe
Let's meet at one of the Trade Shows
Team Holland is looking forward to welcoming you at the Holland stand during IMEX Frankfurt, the worldwide exhibition for meetings, events and incentive travel.

Read more

Team Holland is looking forward to welcoming you at the Holland stand during IBTM World, the leading global event for meetings, business travel and more.

Read more

Team Holland is looking forward to welcoming you at the Holland stand during IMEX America, the biggest meetings industry trade show in the US.

Read more