Holland Meeting Point @ EIBTM
Holland Meeting Point @ EIBTM
27 Views
Holland Meeting Point
Experience Dutch hospitality and get in touch with the Dutch suppliers at the Holland Meeting Point. We are looking forward to welcoming you at stand J300 during EIBTM in Barcelona from 27 November until 29 November 2012
Read more
We are looking forward to meeting you at the Holland Meeting Point (stand H10) during EIBTM in Barcelona from 19 November until 21 November 2013.
Programme
Tuesday, 19th November
10h - 18h: Meet the Dutch suppliers 
16.30h - 18h: Holland Happy Hour
Invitation Holland Happy Hour
You are cordially invited for a Heineken beer during the Holland Happy Hour at the Holland Stand on Tuesday 19th of November. Enjoy the Dutch hospitality, meet Mr Holland, and talk with a wide range of Dutch meeting and event suppliers.
Wednesday, 20th November 
10h - 19h: Meet the Dutch suppliers
17h - 19h: Noordwijk Happy Hour
Invitation Beach Party
When the meeting professionals from Beach Resort Noordwijk throw a party you can almost feel the sea breeze. Noordwijk invites all hosted buyers to join them at the Holland Meeting Point (stand H10) for their Beach Party during the Noordwijk Happy Hour on Wednesday the 20th of November between 17.00 and 19.00 hrs. 
Thursday, 21st November
10h - 17h: Meet the Dutch suppliers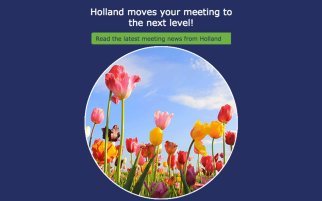 If you are interested in the latest news from Holland as a meeting destination, our Holland Meeting newsletter is perfect for you. We will keep you informed about the latest openings, best meeting deals and give you some inspiring ideas for your next meeting in Holland!
Subscribe
Let's meet at one of the Trade Shows
Team Holland is looking forward to welcoming you at the Holland stand during IMEX Frankfurt, the worldwide exhibition for meetings, events and incentive travel.

Read more

Team Holland is looking forward to welcoming you at the Holland stand during IBTM World, the leading global event for meetings, business travel and more.

Read more

Team Holland is looking forward to welcoming you at the Holland stand during IMEX America, the biggest meetings industry trade show in the US.

Read more