Rotterdam The Hague Airport
Rotterdam The Hague Airport
186 Views
Rotterdam The Hague Airport
Read more
Traveling via Rotterdam The Hague Airport has many advantages for both business and leisure travelers. The airport is easily accessible, has fast check-in and check-out service, parking within walking distance of the terminal, excellent pubs, restaurants and shops and five-star service.
Business and leisure destinations
Every day scheduled services leave Rotterdam The Hague Airport for numerous European business destinations. Throughout the year leading tour operators organize holiday flights to the sun as well as to snow destinations in winter. Tailor-made packages for groups can be arranged. Futher details about destinations can be found here.
Holland's second airport
Rotterdam The Hague Airport is Holland's second airport, both with regard to numbers of passengers (approx. 1.137.835 per year) and to the number of connections. It is centrally located in the urban agglomeration of Western Holland and only six kilometers from downtown Rotterdam. This makes it very attractive for people from the southwestern part of Holland to travel via Rotterdam The Hague Airport.

Because of its favorable location, Rotterdam The Hague Airport is easily accessible by car, taxi and public transport. Every ten minutes bus 33 departs from Rotterdam Central Station for Rotterdam The Hague Airport. Traveling time is approximately twenty minutes.  
For more information please contact:
Rotterdam The Hague Airport 
Rotterdam Airportplein 60 
3045 AP Rotterdam 
The Netherlands

Tel.: +31 (0)10 446 34 44 
Fax: +31 (0)10 446 34 99 
E-mail: info@rtha.com
Internet: www.rotterdamthehagueairport.nl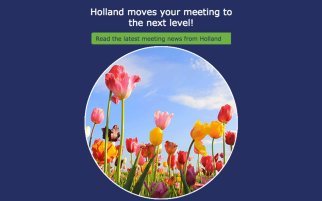 If you are interested in the latest news from Holland as a meeting destination, our Holland Meeting newsletter is perfect for you. We will keep you informed about the latest openings, best meeting deals and give you some inspiring ideas for your next meeting in Holland!
Subscribe
Let's meet at one of the Trade Shows
Team Holland is looking forward to welcoming you at the Holland stand during IMEX Frankfurt, the worldwide exhibition for meetings, events and incentive travel.

Read more

Team Holland is looking forward to welcoming you at the Holland stand during IBTM World, the leading global event for meetings, business travel and more.

Read more

Team Holland is looking forward to welcoming you at the Holland stand during IMEX America, the biggest meetings industry trade show in the US.

Read more