Utrecht
Utrecht – the heart of Holland. Utrecht offers a unique blend of big-city life with a small-town feel. Its beautiful surroundings, historical features and historical inner city, but first and foremost its welcoming inhabitants who share an attitude that breathes tolerance and hospitality, will surely get you in touch with the heart of Holland.
Utrecht is one of the oldest cities in Holland. The compact historical city centre with its many canals, characteristic waterside restaurants and numerous parks give Utrecht almost an village-like feel. Its central location and unmatched historic setting ensure that the Dom city is a logical place to meet.
Read more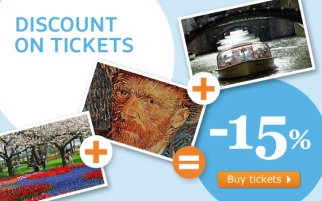 Pre-order your tickets for Utrecht museums & attractions in our ticket shop and save instant money on combination deals!
View the offer