Royal Picture Gallery Mauritshuis
Royal Picture Gallery Mauritshuis
11068 Views
Royal Picture Gallery Mauritshuis
Home of 'Girl with a Pearl Earring' by Vermeer and many other great masters like Rembrandt, Jan Steen, Jan Brueghel, Rubens, Potter and Frans Hals. If you visit The Hague, visiting the museum is a must.
Read More
The Mauritshuis is open again!
'Het Mauritshuis' is located next to the political heart of Holland in the city center of The Hague. It has a marvelous collection of art from the old masters of the 17th and 18th century. The Girl with a Pearl Earring by Johannes Vermeer is the stunning highlight of the museum. There is a reason why it is known as the Dutch Mona Lisa.
The Art Collection
The Royal Picture Gallery Mauritshuis is a former 17th century palace which houses many other brilliant masterpieces, besides the 'Girl with a Pearl Earring':
Paulus Potter, 'The Bull'.
Rembrandt, 'The Anatomy Lesson of Dr. Nicolaes Tulp'.
Johannes Vermeer, 'View of Delft'.
Jan Steen, 'The way you hear it, the way you sing it'.
Jan Brueghel the Elder with Peter Paul Rubens, 'The garden of Eden, with the fall of men'.
Portraits by Frans Hals.
A self portrait by Rembrandt.
Vermeer and other Masters

The question isn't if, but when are you going to visit the Mauritshuis? Vermeer and many other great masters are waiting for you in the Royal Picture Gallery Mauritshuis. The museum is very popular so make sure you come early. 
Find out more about The Hague or the museums of The Hague.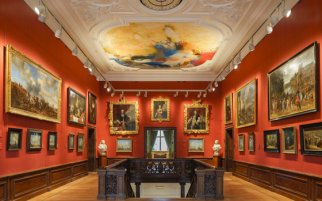 Read everything about the renovations, the collection, opening expositions, and meet the 'Girl with a Pearl Earring'. Come to The Hague and visit the Mauritshuis.
Read More
What's nearby
Show on map
Address:
Plein 29
2511CS The Hague
More in this city
Beaches, beach clubs, water sports facilities: Scheveningen has it all!

Read More

Become a part of the Dutch political life.

Read More

The Hague Market is the biggest market in Europe. 500 stalls sell just about anything you can think of.

Read More