Cycling holiday: Super Tulip Tour
Cycling holiday: Super Tulip Tour
4276 Views
Starting point: Amsterdam, ending point: Amsterdam.
Cycle through the fantastic tulip fields, visit the Keukenhof and Aalsmeer flower auction.
Available only in tulip season, from April through May.
Sleep, breakfast and dine on a lovely ship while everything is taken care of for you.
Book now: 8 days, prices as low as € 780,-
If you like tulips, you cannot afford to miss the Super Tulip cycling tour! Spend the nights on a wonderful ship, enjoy the great meals on board and cycle through the fantastic tulip fields during the day. You will also visit the Keukenhof and the Aalsmeer flower auction, and explore traditional old Dutch towns.
All aboard!
On the first day, after boarding the ship and getting to know your travel companions, you will cycle to Spaarndam. From there, you will sail to Haarlem, where you will have the evening free to visit beautiful hofjes, or courtyards, and pleasant city centre. On the next day you will cycle to the Keukenhof, with nearly seven million flowering bulbs, and on to the old university town of Leiden.
Aalsmeer flower auction
Your route continues through the 'green heart' of Holland, an area marked by beautiful lakes, polders and forests, towards Kudelstaart near the Westeinder Plassen. Early the next morning, you will visit the Aalsmeer flower auction, and after breakfast cycle to the Zaanse Schans with its picturesque old windmills.
Alkmaar city of cheese
After spending the night on the ship, you will cycle to Alkmaar, a city of cheese with beautiful old canals and squares. After exploring the polder landscapes of the Beemster you will cycle on to Purmerend and Amsterdam. Cycling fanatics may wish to add trips to Edam and Monnickendam on the IJsselmeer, discovering another wonderful piece of Holland!
Practical information: Available exclusively in tulip season from April through May.
Starting point: Amsterdam, end point: Amsterdam.
Number of days: 8.
Total distance: 275 kilometres.
Average distance per day: 45 kilometres.
Level: 1 (for everyone, the easiest holiday for all ages).

You will be accompanied by a travel guide!

More information about this cycling holiday or
What's nearby
Show on map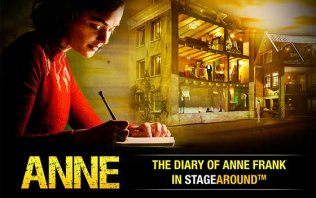 See ANNE in Theater Amsterdam! A unique play, translated into 8 languages, about the life of Anne Frank.
Read More