Domburg
Domburg is the oldest seaside resort in Zeeland. In summer the town is bustling but pleasant. With its old buildings, it has a picturesque appeal. Even so, it is mainly the wide, clean beaches of Domburg that attract the crowds. There are beach pavilions and cabins everywhere. Boardwalks along the beach ensure that the warm sand is accessible to prams, buggies and wheelchairs. And if you would like to fly a kite, go to the Oosterstrand or Westerstrand
Read more
Domburg is the oldest seaside resort in Zeeland. In summer the town is bustling but pleasant. With its old buildings, it has a picturesque appeal. Even so, it is mainly the wide, clean beaches of Domburg that attract the crowds. There are beach pavilions and cabins everywhere. Boardwalks along the beach ensure that the warm sand is accessible to prams, buggies and wheelchairs. And if you would like to fly a kite, go to the Oosterstrand or Westerstrand.
Artists and Domburg
The town centre lies cosily against the dunes. In addition to modern facilities, you will also find a lot of cultural history. In the early 20th century, many artists came to Domburg for inspiration, including none other than Piet Mondrian. To discover why he came to Domburg of all places, why not follow the Mondrian itinerary?
Nature reserve de Manteling
Domburg is located on the edge of nature reserve 'de Manteling'. This is a unique forest sidling up to the dunes, which you can explore on foot or by bicycle. The forest stretches from Domburg to Oostkapelle and harbours a huge diversity of plant and animal species. At biology museum Terra Maris you can find out more about the flora and fauna of 'de Manteling'.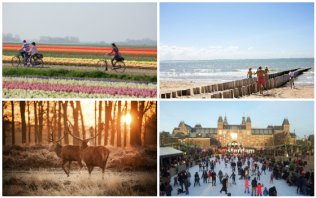 Holland is beautiful in all seasons. Find the best holiday tips for spring, summer, autumn and winter.
Read more


More in this region
Zeeland is protected by the best greatest storm barriers in the world.

Read more

Sense the wealthy past of this former trading city.

Read more

Visit the best beaches: for families, for water sports fanatics and nature lovers.

Read more

Lots of beaches, a wealth of history, plenty of entertainment: this is Vlissingen!

Read more

Amadore Wellness: total relaxation in Zeeland.

Read more

Live the life of a pirate and pet a shark.

Read more

A unique attraction park focusing on the Netherland's history with water. Witness the powerful storm surge barrier, and enjoy at the water park.

Read more

Discover the wealth of the Oosterschelde from land, on water and underwater!

Read more

Old-fashioned fun at the beach combined with contemporary activities.

Read more

After a day of hiking through the lovely countryside of Zuid-Beveland, you can enjoy the most delicious local dishes in the evening.

Read more

On this route, you will discover Zeeland's most awe-inspiring story. Find out more here.

Read more

The National Knowledge and Memorial Centre for the Flood of 1953.

Read more

Everything you need to know about the tastiest seafood from Zeeland.

Read more

Find out more about the crucial role that Zeeland played during the liberation of Holland.

Read more

Near the Belgian border lies the National Landscape of Zeews-Vlaanderen, which is known for its beaches, nature, good food and Sunday shopping.

Read more

The world's largest collection of Zeeland heritage: 16th century tapestries, china, paintings, contemporary art, and an impressive collection of traditional Zeeland costumes.

Read more
Our recommendations for more Holland information
Beaches, flower-bulb fields and royal feasts: Holland celebrates spring outdoors!

Read more

Undoubtedly one of the jewels of Europe, and not just because of the stunning 17th century canals. Go find out for yourself!

Read more

Book your hotel in Holland well in advance. Check out the most popular places here.


Read more

Holland is the ultimate destination for cycling thanks to its flat landscape, mild climate, short distances and wonderful infrastructure.

Read more