Dutch Vesting Town Open Days
Dutch Vesting Town Open Days
512 Views
June 3, 2017 - June 5, 2017
Dutch Vesting Town Open Days
Visit the Dutch Vesting Town Open Days and learn more about historic fortified towns. Watch tournament simulations, learn all about old crafts, and see battle reenactments.
Read more
Once a year, old fortified towns open their gates, welcoming you to rediscover forgotten stories. During the Dutch Vesting Town Open Days, you will learn how the cities' defense system worked, meet historic characters, and witness battlefield simulations. 
See what Holland looked like in the Middle Ages
Learn more about the defense system of the fortified towns
Dutch fortified towns
There are fortified towns throughout Holland: towns that were surrounded by walls, fortifications and other defensive works between the 15th and 18th  century. The idea was to protect the population against outside attacks. Every fortified town has its own unique atmosphere and stories. The past comes to life here, especially during the Dutch Vesting Town Open Days.
Activities during the Dutch Vesting Town Open Days
Every year the Dutch Vesting Town Open Days are held in a different town (this year in: Geertruidenberg). The town will be transformed into a historic fortified town. You will hear cannons go off every now and again and for two days, you will be able to enjoy a range of activities: tournaments, learning about old crafts, and listening to troubadours.  
More fortified towns in Holland
Did you know that Holland has many more fortified towns? One of these towns full of history is Amersfoort, which bears many traces of the past, like the Kamperbinnenpoort. This gate was a part of Amersfoort's first city wall. Or how about Muiden and its medieval Muiderslot Castle.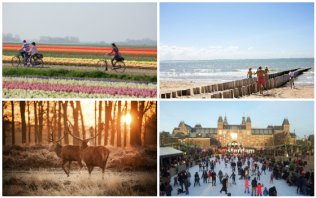 Holland is beautiful in all seasons. Find the best holiday tips for spring, summer, autumn and winter.
Read more


Our recommendations for more Holland information
Beaches, flower-bulb fields and royal feasts: Holland celebrates spring outdoors!

Read more

Undoubtedly one of the jewels of Europe, and not just because of the stunning 17th century canals. Go find out for yourself!

Read more

Book your hotel in Holland well in advance. Check out the most popular places here.


Read more

Holland is the ultimate destination for cycling thanks to its flat landscape, mild climate, short distances and wonderful infrastructure.

Read more