Food=Design
Denise Kortlever, Wednesday, February 13, 2013, 347 Views
Why is tea in a teabag? Why is so much food wasted in restaurants? Katja Gruijters always starts her project by questioning the obvious. Whilst eating is a basic need for people, it is also part of our culture and thus linked to rituals and human interaction. Gruijters wants to positively contribute to our eating culture and as such designs innovative food products, like flower candies, edible plates and lace chocolate tiles. Nowadays, her main focus is on the sustainability of our food. Strange European food legislation (there are strict rules governing the size and shape of fruit and vegetables, i.e. bananas have to be perfectly curvy) convinced Gruijters that now is the time to redefine the way we perceive food and embrace real, honest products. She therefore works on projects that – quite literally – give food for thought, such as a no-waste restaurant and dinners completely made from leftovers.
She doesn't consider herself a food designer as food is already designed by nature. Instead, Marije Vogelzang prefers to call herself an 'eating designer', focusing on the preparation, history and culture surrounding food. Her philosophy consists of eight inspirational points that form the basis of all her designs: the senses, nature, culture, society, technique, psychology, science and action. Vogelzang is most interested in the social-psychological aspects of food, i.e. how it evokes such strong memories and emotions. She has designed fascinating projects like an all-white funeral meal, a 'lickable' chocolate wall and a 'Dutch tap water' tasting to raise awareness of the value of tap water. She's also the founder of restaurant Proef in Amsterdam and Rotterdam, where pure, organic food is served on large wooden boards to share. Definitely worth a visit!
Proef Amsterdam, Gosschalklaan 12
Proef Rotterdam, Mariniersweg 259
What's nearby
Show on map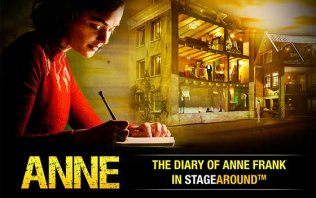 See ANNE in Theater Amsterdam! A unique play, translated into 8 languages, about the life of Anne Frank.
Read More
Our recommendations for more Holland information
Winter in Holland is magical and we like to make things extra warm and cosy during the dark days of the year. Therefore we selected the best best tips for you; from New Year's Eve in Amsterdam, the best ice-skating rinks, christmas shopping and many more.

Read More

Undoubtedly one of the jewels of Europe, and not just because of the stunning 17th century canals. Go find out for yourself!

Read More

Hotels in special locations, luxurious or low-budget. Book your hotel room at attractive rates here.


Read More

Holland is the ultimate destination for cycling thanks to its flat landscape, mild climate, short distances and wonderful infrastructure.

Read More