Hanging cool in the hotel bar
Hanging cool in the hotel bar
Marloes Tervoort, Friday, June 13, 2014 , 808 Views
Hanging cool in the hotel bar
With the rise of the hip hotel bar, you don't even have to go out in the evening in the Netherlands. They have become nightlife destinations themselves, claims Marloes Tervoort.
Read more
When out shopping I like to walk into a hotel just to feel like a tourist in my own city. Absorbing the timeless feeling of a traveller in a strange place lifts me out of the daily grind. It seems I'm not the only one, given the increasing popularity of the hotel bar. Happily, it's no longer the sole preserve of the hotel guest.
One of the first hotel bars I visited regularly in Amsterdam was at Hotel Arena. This was originally a budget hotel, and therefore full of young, foreign tourists. As well as a bar, Hotel Arena also housed a club that became incredibly popular in the late '90s. That didn't do the atmosphere any good: you would see stag and hen parties with increasing regularity. Not cool.
Luckily, Dutch cities now have a whole range of stylish hotel bars with international appeal. In Amsterdam the bars have atmosphere (The College Hotel) and cosmopolitan luxury (The Dylan), but the capital's absolute winner is the Tunes Bar at the Conservatorium Hotel opened in 2012. A typical Dutch building on the outside, the interior is entirely styled by the Italian architect Piero Lissoni to create an impressively elegant, warm place. Since Madonna and Lady Gaga stayed at the Conservatorium Hotel the hotel's popularity has shot up.
Amsterdam's newest asset is the bar at hotel Andaz, designed and furnished by the pride of Dutch design, Marcel Wanders. The bar has only just opened, so it is still building a reputation, but with its location on the Prinsengracht at the edge of the city centre and the Jordaan that won't be a problem.
Of course, there is plenty outside of Amsterdam. Hotel Modez opened café Caspar in the fashion city of Arnhem in 2012. In The Hague, the great and good mingle with international business suits in DesIndes while Hotel New York is not to be missed in Rotterdam. Not the flashiest bar but a great place to sit and watch.
Oh, and things worked out well for Hotel Arena too. After a rigorous renovation, it reopened in 2002 for a somewhat higher segment, with the ToNight club in the old chapel back to its best. You could almost have your stag party there...
Hotel Arena, 's Gravesandestraat 51, Amsterdam
The College Hotel, Roelof Hartstraat 1, Amsterdam
The Dylan, Keizersgracht 384, Amsterdam
Conservatorium Hotel, Van Baerlestraat 27, Amsterdam
Hotel Andaz, Prinsengracht 587, Amsterdam
Hotel Modez, Elly Lamakerplantsoen 4 (Putstraat 1A), Arnhem
Hotel Des Indes, Lange Voorhout 54-56, The Hague
Hotel New York, Koninginnenhoofd 1, Rotterdam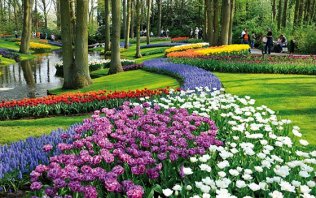 The best place to see tulips in Holland is Keukenhof. Keukenhof is a park with 7 million flower bulbs surrounded by tulip fields.
Read more
Our recommendations for more Holland information
Vibrant festivals, royal art, canal tours and picnics: enjoy the summer in Holland!

Read more

Undoubtedly one of the jewels of Europe, and not just because of the stunning 17th century canals. Go find out for yourself!

Read more

Book your hotel in Holland well in advance. Check out the most popular places here.


Read more

Holland is the ultimate destination for cycling thanks to its flat landscape, mild climate, short distances and wonderful infrastructure.

Read more