Hotels in Amsterdam
6383 Views
Hotels in Amsterdam
Amsterdam offers hundreds of hotels that guarantee a great holiday in the city. You can find hotels in Amsterdam in the historic city centre, along the famous canals, near the station and you can even stay the night in a hotel near Amsterdam Schiphol Airport. Romantic boutique hotels in the Jordaan neighbourhood, majestic buildings overlooking Amsterdam's historic squares, or modern design hotels near the main highways? Amsterdam has so many different hotels that it's difficult to choose!
Read more
Whether your preference is for low-budget hotels, romantic hotels or boutique hotels, in the heart of the centre, along the canals or just beyond, Amsterdam has excellent hotels to suit all tastes and budgets.
Discover the many hotels, hostels and bed & breakfasts in Amsterdam.
Spend the night in a unique hotel such as the Lloyd Hotel.
Make your choice and book it right away, quickly and affordably!
Broad range
Amsterdam boasts hundreds of hotels to spend your holiday in Amsterdam in. The hotels in Amsterdam are spread all throughout the city, in the historic centre, along its world-famous canals, close to Central station and even in the area of Amsterdam Schiphol Airport. The range of options is huge and varied, from romantic boutique hotels to unique luxurious hotels, from budget hotels to small intimate hotels in the Jordaan quarter and from stately hotels on historic squares to modern hotels close to Amsterdam's roads of access.
Unique hotels
Amsterdam is home to a great many unique hotels. For instance, Grand Hotel Krasnapolsky, across from Dam Palace, Hotel Pulitzer, located in 25 linked canal-side homes and Amstel Hotel commanding a view of the Amstel river,  are just some of the most luxurious and stately hotels in Amsterdam. In terms of design, Conservatorium Hotel and Lloyd Hotel are Amsterdam's crowning glory.
Book your hotel
Hotels in Amsterdam exist in all types and sizes, from cosy family hotels to luxury design hotels – no matter what your taste and budget, Amsterdam has an ideal candidate for you. View the full range here and book your hotel in Amsterdam right away.
Accessibility and parking in Amsterdam
Amsterdam is situated approximately an hour's drive from Amsterdam Airport Schiphol . Train transportation is also excellent, taking you from Schiphol to Amsterdam Central Station in fifteen minutes. If you will be traveling to Amsterdam by car, however, bear in mind that parking in Amsterdam is paid parking, and can be rather pricey. Amsterdam also has many paid parking garages, however, as well as a variety of P+R lots on the city's edges,  both of which offer more affordable parking. 
More about hotels, hostels and bed & breakfasts
In addition to the many hotels in Amsterdam, you can also choose to stay in one of the many bed & breakfasts and hostels in Amsterdam. If you're looking for accommodations outside Amsterdam, however, we also have many options for hotels in Rotterdam, hotels in Maastricht and seaside hotels.
Top 5 hotels in Amsterdam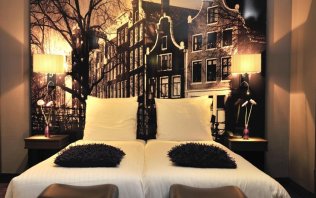 Book your perfect hotel in Amsterdam: from low-budget hotels to houseboats or chic hotels in the city center.
Read more
Eco sustainable tip: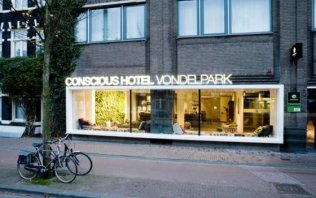 Read the story about Conscious Hotels in Amsterdam.
Read more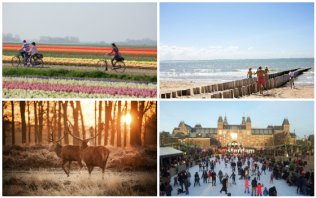 Holland is beautiful in all seasons. Find the best holiday tips for spring, summer, autumn and winter.
Read more


Our recommendations for more Holland information
Beaches, flower-bulb fields and royal feasts: Holland celebrates spring outdoors!

Read more

Undoubtedly one of the jewels of Europe, and not just because of the stunning 17th century canals. Go find out for yourself!

Read more

Book your hotel in Holland well in advance. Check out the most popular places here.


Read more

Holland is the ultimate destination for cycling thanks to its flat landscape, mild climate, short distances and wonderful infrastructure.

Read more