National Jenever Museum Schiedam
National Jenever Museum Schiedam
2008 Views
National Jenever Museum Schiedam
Welcome to the world of Dutch gin! The National Jenever Museum in Schiedam is a working brewery where you;ll learn about the history of jenever and taste the different flavors.
Read more
The National Jenever Museum Schiedam located in picturesque Schiedam, tells the story of the strong Dutch liquor and its rich history. The museum exhibits historical advertisements, glassware, packaging, materials and more.
Explore the historical distillery and see how fine jenever is milled according to the original recipe from the 1700's
Visit the De Nieuwe Palmboom museum mill, an authentic (and still working) mill where you can learn the history of windmills in Schiedam and the production process of jenever
Take home a piece of Schiedam and Dutch culture with you. Bring home a bottle jenever as a souvenir of your time in Holland
Welcome to Schiedam, the jenever capital of the world. Jenever is a strongly alcoholic Dutch liquor. The Jenevermuseum is located in a  working jenever distillery in Schiedam. While you smell and taste the many flavors of jenever, the history and production process are explained.

The History of Dutch Gin
Jenever was invented by a Dutchman in the 16th century and was first used as a medicine. In the 17th century jenever evolved as a liquor produced by hundreds of distilleries.  Brands like 'Bols', 'Henkes' and 'De Kuyper' provided Schiedam with world-wide fame.
Quench your Thirst
Not only does the National Jenever Museum Schiedam tell you a great story about the history and production process of jenever, it also serves the best jenevers. You can't leave the museum without tasting the Dutch spirit. Enjoy!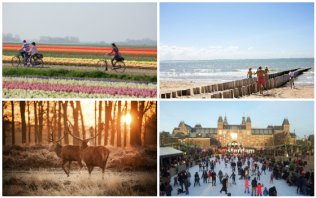 Holland is beautiful in all seasons. Find the best holiday tips for spring, summer, autumn and winter.
Read more
Our recommendations for more Holland information
Beaches, flower-bulb fields and royal feasts: Holland celebrates spring outdoors!

Read more

Undoubtedly one of the jewels of Europe, and not just because of the stunning 17th century canals. Go find out for yourself!

Read more

Book your hotel in Holland well in advance. Check out the most popular places here.


Read more

Holland is the ultimate destination for cycling thanks to its flat landscape, mild climate, short distances and wonderful infrastructure.

Read more