Jewish Historical Museum Amsterdam
Jewish Historical Museum Amsterdam
466 Views
Amsterdam has been home to large numbers of Jewish people since as early as the 16th century, when many Jews fled the Inquisition in Spain and Portugal. The Jewish Historical Museum, which lies in the quarter where they settled, tells of their faith and their history.
The Jewish Historical Museum has an impressive collection of well over 13.000 art works and historical objects. Only a fraction is on display in the permanent exhibition, but it's enough to give you a great impression of the religion, culture and history of Jews and Judaism in Holland.
The Jewish Quarter of Amsterdam
The Jewish Historical Museum is located in the Jewish Quarter of Amsterdam. Just a stone's throw away you'll find the Hollandsche Schouwburg (The Dutch Theater) which has a permanent exhibition about the prosecution of Jews during the Second World War and a memorial for all the Jewish victims. You can also combine your visit with one of the most beautiful synagogues in the world: the Portuguese Synagogue.
Everyone's Welcome
In advance of visiting the Jewish Historical Museum you can have a look at the immense collection of objects, art works, books, photos and videos online. Moreover, the museum includes a children's museum that explains family values and Jewish traditions to the little ones. In short, the Jewish Historical Museum and Jewish Quarter have much to offer and everyone's welcome.
Find out more about museums in Amsterdam or Amsterdam!
Our recommendations for more Holland information
Vibrant festivals, royal art, canal tours and picnics: enjoy the summer in Holland!

Read More

Undoubtedly one of the jewels of Europe, and not just because of the stunning 17th century canals. Go find out for yourself!

Read More

Hotels in special locations, luxurious or low-budget. Book your hotel room at attractive rates here.


Read More

Holland is the ultimate destination for cycling thanks to its flat landscape, mild climate, short distances and wonderful infrastructure.

Read More
What's nearby
Show on map
Address:
Nieuwe Amstelstraat 1
1011PL Amsterdam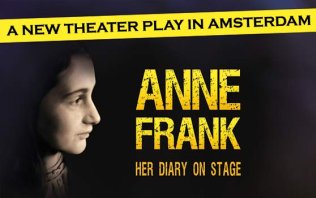 See ANNE in Theater Amsterdam! A unique play, translated into 8 languages, about the life of Anne Frank.
Read More