Los tulipanes y su historia
Los tulipanes y su historia
16130 Views
Cultivados originariamente en el Imperio Otomano (hoy Turquía), los tulipanes se importaron a Holanda en el siglo dieciséis. Cuando el botánico flamenco Carolus Clusius escribió el primer libro serio sobre tulipanes en 1592, su popularidad aumentó de tal manera que la gente entraba continuamente en su jardín para robar los bulbos. La importancia de esta colorida y curvilínea flor fue creciendo al mismo ritmo que lo hacía la Edad de Oro holandesa. Se convirtieron en tema obligado de cuadros y festivales. A mediados del siglo diecisiete su popularidad era tal que provocaron la primera burbuja económica, conocida como 'tulipomanía'. A medida que se adquirían más y más bulbos, su precio aumentó tanto que terminaron utilizándose como si fueran dinero, hasta causar una crisis del mercado.
Los tulipanes en Holanda y en el extranjero
Hoy en día, Holanda sigue siendo famosa por sus tulipanes y otras flores, hasta el punto de recibir el cariñoso apelativo de 'floristería del mundo'. Los tulipanes se cultivan en extensos campos de bellos colores y en primavera se celebran numerosos festivales en su honor en todo el país. Los holandeses que emigraron a otros países se llevaron consigo su afición por estas flores. Ahora hay tulipanes y festivales del tulipán en Nueva York (fundada por los colonos holandeses con el nombre de Nueva Ámsterdam) y en Holland (Michigan), dos ciudades estadounidenses con fuertes raíces holandesas.
Entre tulipanes
Dans le « Kop van Noord-Holland », vous pourrez admirer des millions de tulipes, de jacinthes et autres fleurs, qui transforment le paysage en un tapis multicolore. Chaque année, le polder du Nord-Est accueille le festival de la tulipe. Bien évidemment organisé au beau milieu des champs de tulipes, il se déroule de fin avril à début mai. Abundan los jardines y mercados de flores, y merece realmente la pena visitar la mayor casa de subastas de flores del mundo en Aalsmeer, cerca de Ámsterdam. Si quieres pasear entre tulipanes no dejes de visitar el Keukenhof, el mayor jardín de flores del mundo. Está justo al sur de la ciudad de Haarlem, y probablemente te resulte familiar porque seguramente las fotos de campos de tulipanes que hayas visto en alguna ocasión sean de allí. Muchos viajes organizados y visitas guiadas incluyen festivales dedicados a estas flores, y casi todos los parques y jardines están reseñados en las rutas del transporte público para facilitar su acceso al visitante.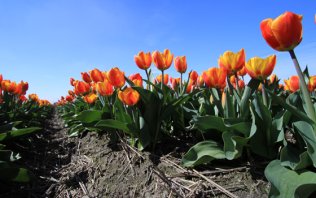 Ulrike Grafberger
No siempre tiene por qué ser el Keukenhof. Aquí tienes algunas pistas para disfrutar de las maravillas de los campos de flores más bonitos, totalmente gratis.
Read More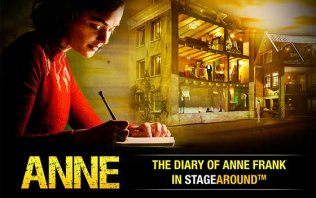 See ANNE in Theater Amsterdam! A unique play, translated into 8 languages, about the life of Anne Frank.
Read More
Our recommendations for more Holland information
Winter in Holland is magical and we like to make things extra warm and cosy during the dark days of the year. Therefore we selected the best best tips for you; from New Year's Eve in Amsterdam, the best ice-skating rinks, christmas shopping and many more.

Read More

Undoubtedly one of the jewels of Europe, and not just because of the stunning 17th century canals. Go find out for yourself!

Read More

Hotels in special locations, luxurious or low-budget. Book your hotel room at attractive rates here.


Read More

Holland is the ultimate destination for cycling thanks to its flat landscape, mild climate, short distances and wonderful infrastructure.

Read More