Museum Catharijneconvent Utrecht
Museum Catharijneconvent Utrecht
2028 Views
Museum Catharijneconvent
An award-winning museum about the present, past and future of Christianity in Holland. Enjoy the unique, up-to-date collection of both Protestant and Catholic works.
Read more
Museum Catharijneconvent is housed in the city center of Utrecht in a former medieval monastery. Here you'll learn more about the fascinating history of Christianity in Holland. The past, present and future are explained with the use of historical objects and multimedia.

Protestantism and Catholicism under one Roof

What makes this museum unique in the world is its collection, which is a combination of both Protestant and Catholic works. Another great quality is the diversity of the collection, which includes exquisite gold and silver, statues of saints, GSUS jeans, paintings by old masters, such as Rembrandt, video art and centuries-old manuscripts.

Award Winning Collection

Museum Catharijneconvent has won many awards for its outstanding collection. Next to the permanent collection, the museum hosts many temporary collections with biblical themes. It's time for you to delve into the religious aspects of Holland.
Find out more about Utrecht or the museums of Utrecht.
Video City Film Museum Catharijneconvent Utrecht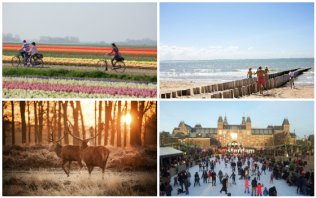 Holland is beautiful in all seasons. Find the best holiday tips for spring, summer, autumn and winter.
Read more
More in this region
The former palace of the Royal Family in Baarn.

Read more

The former residence of Princess Beatrix is just a stone's throw from Soestdijk Palace.

Read more

Visit the Witches Weighhouse and discover the witch in your family!

Read more

A forest full of animals and adventures.

Read more

Cycle or walk along the fortresses of the 19th century fortification and combine nature with monuments.

Read more

Slot Zuylen Castle is one of the treasures of the Vecht region, and a place that has remained unchanged since 1752. Visit Slot Zuylen and feel like you've taken a trip back in time to the 18th century.

Read more

Discover the luxurious 20th century manor of the last German Emperor

Read more

Explore the loveliest windmills and greenest pastures amid beautiful historic cities.

Read more

Amersfoort has a compact city centre that is just perfect for a day on the town.

Read more

Meet the former residents of Castle Amerongen thanks to a modern multimedia production, and stroll around the beautiful castle gardens, with a total area of 10 hectares (almost 25 acres).

Read more

The floodplains of the rivers Rijn and Lek are the domain of the birds. Only in the spring and summer are they open to the public.

Read more

Be enchanted by the largest castle of Holland.

Read more

Utrecht and its eight fortresses are part of the New Dutch Waterline.

Read more

Visit the birthplace of De Stijl co-founder Piet Mondrian, now a museum about his life and work.

Read more

What a Zoopendous adventure! You can nose up to our polar bears and visit our new sea lion show "Elements".

Read more

In the Vechtstreek Dutch landscapes are dotted with castles, forts and country houses.

Read more

Groeneveld Castle has truly breathtaking gardens. You can also explore the scenery around Groeneveld with a forest ranger from the Dutch Forest Service.

Read more

Visit the stunning land of castles, mansions, lakes and orchards.

Read more
Our recommendations for more Holland information
Beaches, flower-bulb fields and royal feasts: Holland celebrates spring outdoors!

Read more

Undoubtedly one of the jewels of Europe, and not just because of the stunning 17th century canals. Go find out for yourself!

Read more

Book your hotel in Holland well in advance. Check out the most popular places here.


Read more

Holland is the ultimate destination for cycling thanks to its flat landscape, mild climate, short distances and wonderful infrastructure.

Read more