Museum De Lakenhal
257 Views
Museum 'De Lakenhal' is the Municipal Museum of Leiden and is housed in the former cloth makers' hall dating from 1640. The Lakenhal focuses on Dutch urban culture from the 16th century up to the present. It has some paintings by great Dutch masters, such as Rembrandt.

History and Art at De Lakenhal

The museum reflects on several periods starting at the 16th century. Paintings, silver, glass, furniture, photographs, sculptures, pewter and tiles create an impression of the Dutch way of life throughout time. You can enjoy works of art ranging from old masters to work by modern artists. Temporary exhibitions present the Dutch artistic climate of the time.

De Lakenhal Leiden

De Lakenhal in Leiden can give you a great impression of the way Dutch urban culture developed from the 16th century up until the present day. Plus, the building is a historical monument worth a visit in itself. If you're in Leiden you should definitely have a look at the Lakenhal.
What's nearby
Show on map
Address:
Oude Singel 28 - 32
2312RA Leiden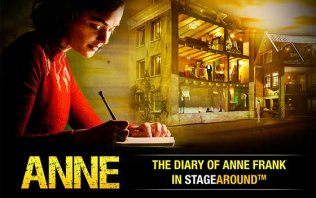 See ANNE in Theater Amsterdam! A unique play, translated into 8 languages, about the life of Anne Frank.
Read More
More in this city
In summer, the Zijlpoort is an excellent place to have a cocktail and enjoy the view of the boats sailing by.

Read More

Praised for its amazing acoustics, the Stadsgehoorzaal is definitely Leiden's music temple.

Read More

The Sieboldhuis in Leiden revolves around the special relationship between Japan and Holland.

Read More

Chic or casual, new or vintage: Leiden is the place to go for shopping.

Read More

Discover Leiden as seen through the eyes of the locals with this series of secrets of the city.

Read More

Take your pick from our list of top restaurants and have a lovely lunch or dinner in Leiden.

Read More

Visit the oldest church in Leiden and admire its beautiful interior.

Read More

Where you should go for a night on the town in Leiden?

Read More

Over one hundred beautiful poems in multiple languages embellish Leiden's inner city.

Read More

Rijksmuseum Volkenkunde in Leiden is more than a museum; it is a journey around the world.

Read More

Find a table on a terrace on the western edge of the city right next to the centuries-old city gate.

Read More

Every Saturday the best market in Holland arises in Leiden's city centre.

Read More

The imposing Leidse Schouwburg is the biggest theatre in Leiden.

Read More

Discover the magic world of medicine through the eyes of the Dutch physician Boerhaave.

Read More

The Hooglandse Kerk was never completed and yet it is a beautiful monumental church in Leiden.

Read More

Countless idyllic inner courts and gardens lie hidden from sight behind high walls and closed gates.

Read More

The most beautiful canal in Leiden was once called the most beautiful place in the world.

Read More

Climb the thousand year old citadel in the centre of Leiden.

Read More

The Visbrug and Koornbrug are the two most beautiful bridges in Leiden.

Read More

The Academiegebouw, which is infamous for its 'sweating room', is the oldest building in Leiden.

Read More

Stroll through the very same streets where Rembrandt used to walk.

Read More

The Molen de Valk is a windmill built in 1785 and is one of the most recognizable sites in the city of Leiden.

Read More

The canals of Leiden were incorporated into the city's planning and are studded with tree-covered quays.

Read More

The oldest botanical garden in the Netherlands.

Read More
Our recommendations for more Holland information
Winter in Holland is magical and we like to make things extra warm and cosy during the dark days of the year. Therefore we selected the best best tips for you; from New Year's Eve in Amsterdam, the best ice-skating rinks, christmas shopping and many more.

Read More

Undoubtedly one of the jewels of Europe, and not just because of the stunning 17th century canals. Go find out for yourself!

Read More

Hotels in special locations, luxurious or low-budget. Book your hotel room at attractive rates here.


Read More

Holland is the ultimate destination for cycling thanks to its flat landscape, mild climate, short distances and wonderful infrastructure.

Read More