New Luxor Theater
986 Views
New Luxor Theater
Experts agree that the architecture, location and appeal of the New Luxor Theater make it one of Holland's most beautiful theaters. Take a 60-minute architecture tour and experience it yourself.
Read more
One of Holland's most beautiful theaters
The Theater of Rotterdam
The New Luxor Theater is Rotterdam's main theater. Experts agree that the building's architecture, location and appeal make it one of Holland's most beautiful theaters.
The Architecture of The New Luxor Theater
The amazing design by Australian architect Peter Wilson has many great characteristics. First of all it has a theatrical red color, which makes the theater and its surroundings seem to glow. Secondly, the theater plays with spaces: an overwhelming entrance hall, wide staircases and many look-throughs. Thirdly, it is well located along the Meuse River at the foot of the Erasmus Bridge. The roof terrace and the foyer offer visitors a spectacular view of Rotterdam.
Take a Theater Tour
Since the opening in 2001 many people have requested a tour through the amazing New Luxor Theater. You can get a 60-minute tour, too! Call the theater for reservations and we guarantee you won't be disappointed.
Click here for more information about culture in Rotterdam or Rotterdam itself.
Find out what's nearby
Address:
Posthumalaan 1
3072AG Rotterdam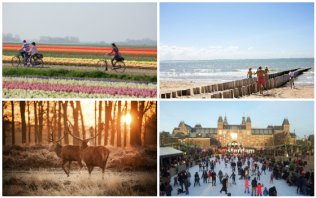 Holland is beautiful in all seasons. Find the best holiday tips for spring, summer, autumn and winter.
Read more
Our recommendations for more Holland information
Winter in Holland is magical and we like to make things extra warm and cosy during the dark days of the year. Therefore we selected the best best tips for you; from New Year's Eve in Amsterdam, the best ice-skating rinks, christmas shopping and many more.

Read more

Undoubtedly one of the jewels of Europe, and not just because of the stunning 17th century canals. Go find out for yourself!

Read more

Hotels in special locations, luxurious or low-budget. Book your hotel room at attractive rates here.


Read more

Holland is the ultimate destination for cycling thanks to its flat landscape, mild climate, short distances and wonderful infrastructure.

Read more