Noordbrabants Museum
1172 Views
Het Noordbrabants Museum uses its splendid collections to display the history of the province of Brabant, with works by artists like Breughel Sluijters, and Van Gogh during his time in Brabant.
Discover the history of Brabant in Het Noordbrabants Museum.
Visit the Vincent van Gogh paviljoen and examine his 'Brabant work' and life.
Het Noordbrabants Museum, which together with Stedelijk Museum 's-Hertogenbosch comprises the heart of the museum district in the city of Den Bosch, offers a unique overview of life in Brabant through the centuries. From Roman times to modern top works by Jan Sluijters, you will find it all at the 4000 m2 exhibition space.
Military Government
Behind the beautiful Classicist façade of the old Den Bosch Government Palace you will find great exhibitions on the art, culture and history of Noord-Brabant. Following a large-scale renovation and reopening in 2013, the museum has added temporary exhibitions in the garden gallery and side wing in addition to the permanent collection.
Noord-Brabant through the centuries
The permanent collection embraces works from the late Middle Ages, such as 'God's Judgement', 16th century works by Pieter Breughel the Younger, Spittende Boerin by Vincent van Gogh and modern works by Jan Sluijters, Theo Kuypers, Pieter Stoop and others. The museum is located on Verwersstraat 41 in Den Bosch.
'Van Gogh 125 years of inspiration'
In 2015 it will be exactly 125 years ago since Vincent van Gogh's death. The Van Gogh Museum in Amsterdam, Kröller-Müller Museum in Otterlo and Noordbrabants Museum in Den Bosch, which show parts of Van Gogh's oeuvre, will honour the painter with special exhibitions revolving around the theme 'Van Gogh 125 years of inspiration'. In addition countless anniversary activities relating to Vincent van Gogh's cultural heritage will be organised in Holland in 2015. Keep an eye on the site for more information.
What's nearby
Show on map
Address:
Verwersstraat 41
Den Bosch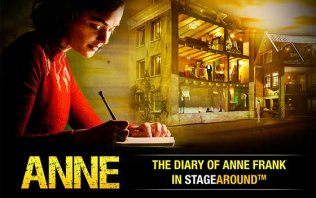 See ANNE in Theater Amsterdam! A unique play, translated into 8 languages, about the life of Anne Frank.
Read More
Our recommendations for more Holland information
Winter in Holland is magical and we like to make things extra warm and cosy during the dark days of the year. Therefore we selected the best best tips for you; from New Year's Eve in Amsterdam, the best ice-skating rinks, christmas shopping and many more.

Read More

Undoubtedly one of the jewels of Europe, and not just because of the stunning 17th century canals. Go find out for yourself!

Read More

Hotels in special locations, luxurious or low-budget. Book your hotel room at attractive rates here.


Read More

Holland is the ultimate destination for cycling thanks to its flat landscape, mild climate, short distances and wonderful infrastructure.

Read More