Opera, Dance and Theater in Holland
Opera, Dance and Theater in Holland
749 Views
Opera, Dance and Theater in Holland
Opera, Dance and Theater in Holland
Read more
Holland has a diverse, and innovative, arts and culture community. While the country is known mostly for an impressive array of museums, the Netherland also hosts internationally reknown dance companies, award winning music venues, and legendary performances.
Notable Venues
Het Muziektheater
The Muziektheater is home to the Dutch National Ballet and the Nederlandse Opera.
Carre
The Royal Theatre Carre is Amsterdam's best-known theatre poised romantically on the Amstel Riverl. The theater hosts plays, musicals, and cabaret.
Stadsschouwburg Amsterdam
The Stadsschouwburg features classical and experimental theater and dance productions and is the premier venue for theater performances in Amsterdam's Leidseplein.
Vondelpark open air theatre (Open Lucht Theater)
The amsterdam equivalent of Central park's summer stage, the Vondelpark Open Lucht theater is a series of free performances running June through August.
Muziekgebouw aan 't IJ
Muziekgebouw aan 't IJ is a contemporary classical music concert hall above the IJtunnel. It is about a 10 minute walk from central amsterdam.  The building has won numerous architectural awars.
Theater and Opera
Netherlands Opera
Established shortly after WWI, the Netherlands Opera has been performing around Holland for over 50 years. De Nederlandse Opera produces about 11 productions per year, plus a number of lunch performances and appearances at the Holland Festival.
Amsterdam Marionette Theatre
The Amsterdam Marionette Theatre presents a unique form of music theatre: the European tradition of the classical marionette theatre. Wooden actors, in their silk and velvet costumes, present opera's and music theatre by various composers. Six puppeteers manipulate the large marionettes.
Dance
The Dutch National Ballet (Het National Ballet) is an internationally acclaimed touring company that is the largest dance company in the Netherlands.  They are based with De Nedelandse Opera in Het Muziektheater in Amsterdam.
The Hague is also an acclaimed destination for dance. It is home to the Nederlands Dans Theater, one of the top dance companies in the world. The Hague also hosts large dance production house Korzo. In the autumn, the city is taken over by the Holland Dance Festival and the CaDance Festival.
Scapino Ballet in Rotterdam is the oldest ballet company with a long history of innovation and a reputation for producing dance groups. Each year Scapino also has performances in Amsterdam, such as the like Open Lucht Theater in Vondelpark.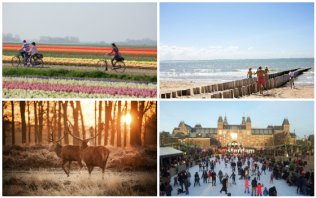 Holland is beautiful in all seasons. Find the best holiday tips for spring, summer, autumn and winter.
Read more


Our recommendations for more Holland information
Vibrant festivals, royal art, canal tours and picnics: enjoy the summer in Holland!

Read more

Undoubtedly one of the jewels of Europe, and not just because of the stunning 17th century canals. Go find out for yourself!

Read more

Book your hotel in Holland well in advance. Check out the most popular places here.


Read more

Holland is the ultimate destination for cycling thanks to its flat landscape, mild climate, short distances and wonderful infrastructure.

Read more