10x restaurants in Rotterdam
10x restaurants in Rotterdam
2012 Views
Rotterdam is the only Dutch city to boast a real skyline. It is devoted to fashionable trends and modernity. Countless culinary developments follow each other in quick succession, so this is definitely the place for you if you are looking for trendy, flavourful eating establishments.
Discover the culinary port city of Rotterdam.
Enjoy the cosmopolitan atmosphere of Rotterdam with its trendy restaurants.
Discover our top 10 best restaurants in Rotterdam.
We have selected the top 10 restaurants for you:
1. Stroom
Trendy restaurant in a former power plant, with great staff serving excellent food. You can even spend the night here.
Address: Lloydstraat 1, Rotterdam
2. Parkheuvel *
This gorgeous top restaurant is located on the park harbour. Out-of-the-ordinary flavour combinations and matching wines have earned them two Michelin stars.
Address: Heuvellaan 21, Rotterdam
3. Boudoir
From finger food to a delicate French menu, Boudoir serves your meal while you sit on velvet benches amidst glamourous, elegant surroundings.
Address: Meent 65a, Rotterdam
4. Citroen
Enjoy flavourful Mediterranean food in a modern, romantic restaurant on 'Kop van Zuid'. The outdoor terrace is a wonderful place in summer!
Address: Prinsendam 130, Rotterdam
5. Dewi Sri
This restaurant in a stately merchant house on the Meuse river serves the best rice table and other Javanese and Sumatran dishes in Rotterdam.
Address: Westerkade 20, Rotterdam
6. Bazar
Eating at Bazar is fun, tasty and very affordable. The interior is full of colourful tables and outstanding lights and the dishes are based on North African and Middle Eastern influences. We recommend it!
Address: Witte de Withstraat 16, Rotterdam
7. Eau Lounge
The best-kept secret in Rotterdam: Eau Lounge sees you enjoy your food on a wonderful outdoor terrace with a view of Erasmus Bridge. Fusion food combined with world music, just perfect!
Address: Boompjes 750, Rotterdam
8. Amarone
Its open-plan kitchen, luxury seats and open fire make Amarone a warm, welcoming place. The honest cooking style of chef Gert Blom is founded on French cuisine. We love it!
Address: Meent 72A, Rotterdam
9. Huson
Huson is a trendy, classy restaurant that like the nearby harbour is filled with a pleasant bustle. A Japanese and international menu, with beautiful sushi as the highlight. Real value for your money.
Address: Scheepstimmermanslaan 14, Rotterdam
10. In den Rustwat
Restaurant 'In den Rustwat' (At the 'Rest a Little') occupies a special location in Rotterdam. The building has a thatched roof and dates from the sixteenth century. The food however is far from traditional – in fact, it is spectacular.
Address: Honingerdijk 96, Rotterdam
What's nearby
Show on map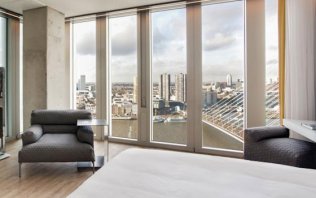 Do you prefer a hotel in the city centre of Rotterdam or one with a view over the river Meuse?
View the offer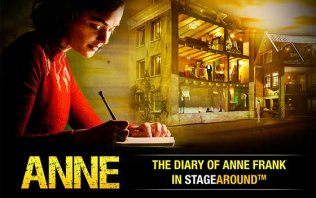 See ANNE in Theater Amsterdam! A unique play, translated into 8 languages, about the life of Anne Frank.
Read More
Our recommendations for more Holland information
Winter in Holland is magical and we like to make things extra warm and cosy during the dark days of the year. Therefore we selected the best best tips for you; from New Year's Eve in Amsterdam, the best ice-skating rinks, christmas shopping and many more.

Read More

Undoubtedly one of the jewels of Europe, and not just because of the stunning 17th century canals. Go find out for yourself!

Read More

Hotels in special locations, luxurious or low-budget. Book your hotel room at attractive rates here.


Read More

Holland is the ultimate destination for cycling thanks to its flat landscape, mild climate, short distances and wonderful infrastructure.

Read More