Sailing in Holland
2019 Views
Sailing in Holland
Read More
Nearly every Dutch city and town is accessible by water. With so much water, Holland has a rich nautical tradition. Barging, traditional sailing or wind surfing; something is always happening on the Dutch lakes, rivers and seas.
Regulations
Both privately owned and rented vessels must carry a copy of the Inland Shipping Police Regulations (included in part 1 of the ANWB Water Tourism Almanac), as these are in force on most of the inland waters, the IJsselmeer, the Waddenzee and the Zeeland waters (except the Westerschelde – there you will need Shipping Regulations for the Westerschelde, drawn up in conduction with the Belgian water authorities).
Vessels that can travel faster than 20 kilometres per hour must be registered at the authorities (at larger post offices in Holland), and must meet certain Dutch safety requirements. A license is required for vessels over 15 metres, and for vessels under 15 metres able to go faster than 20 kilometres per hour.
The Dutch license is divided into two types: Klein vaarbewijs I and Klein vaarbewijs II. Which one you need depends on, on which rivers or lakes you want to sail.
Klein vaarbewijs I
For sailing on rivers, canals and lakes, with exception of the Westerschelde, Oosterschelde, IJsselmeer ( Markermeer and IJmeer included), de Waddenzee, de Eems en de Dollard.
Klein Vaarbewijs II
For sailing on all inland waters; including the Westerschelde, Oosterschelde, IJsselmeer (incl. Markermeer and IJmeer), Waddenzee, Eems and the Dollard.
Customs Formalities
EU residents are allowed to take a boat with them for an unlimited period as long as they can prove that VAT has been paid on it.
Sailing Areas
It is possible to sail from the very North to the South of Holland. Some sailing areas are The Frisian Lakes, de Kaag Lakes, Vecht Lakes, Zeeland and the Rivers Maas, Rijn and IJssel with excellent sailing, swimming, rowing, water-skiing and surfing facilities.
Charts and Brochures
The ANWB publishes charts, almanacs and guide books, available from ANWB offices, local VVV's  and most water shops. Part 1 of the ANWB Water Tourism Almanac gives the regulations for navigable waters in Holland, and directions for sailing on lakes, rivers and open water.
It is obligatory to have this on board. The Almanac is not available in English, however there's an English translation of key words. Part 2 includes operating times for bridges and locks, water levels and maximum speed. The ANWB does not send charts and brochures abroad, so you will have to buy them upon arrival in Holland at ANWB shops or local tourist board (VVV).
For information on sailing routes, opening times from dikes and bridges etc. you can email the ANWB Watersport at: Watersportinfo@anwb.nl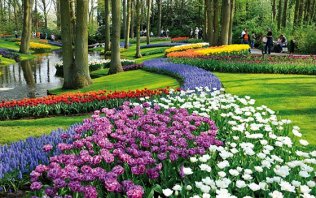 The best place to see tulips in Holland is Keukenhof. Keukenhof is a park with 7 million flower bulbs surrounded by tulip fields.
Read More
Our recommendations for more Holland information
Beaches, flower-bulb fields and royal feasts: Holland celebrates spring outdoors!

Read More

Undoubtedly one of the jewels of Europe, and not just because of the stunning 17th century canals. Go find out for yourself!

Read More

Hotels in special locations, luxurious or low-budget. Book your hotel room at attractive rates here.


Read More

Holland is the ultimate destination for cycling thanks to its flat landscape, mild climate, short distances and wonderful infrastructure.

Read More