Second-hand catering
Jeroen Apers, Monday, August 5, 2013 , 809 Views
Second-hand catering
Ik kom graag bij de Noorderparkbar in Amsterdam-Noord. Dit is een klein barretje dat helemaal gebouwd is van materialen afkomstig van Marktplaats, zeg maar de Nederlandse eBay. Het eindresultaat lieten de ontwerpers geheel afhangen van wat ze op deze website tegenkwamen. Omdat alle bouwmaterialen bij particulieren zijn opgehaald, heeft elk onderdeel van de bar zijn eigen verhaal. Dit is uitgebreid gedocumenteerd op de (Nederlandstalige) weblog hetkomtaltijdgoed.nl. Leuk om te lezen als je er van je kopje koffie geniet.
Read more
I love the Noorderparkbar in Amsterdam-Noord. It is a tiny little cafe built entirely with materials sourced from Marktplaats, which is something like the Dutch version of eBay. The designers based the end result entirely on what they found on this website. Since all building materials were bought from private individuals, each part of the bar has its own story. The designers documented these stories extensively on the (Dutch) blog hetkomtaltijdgoed.nl. A great read while you are enjoying a cup of coffee at the Noorderparkbar.
There are other popular restaurants and cafes designed on the basis of the recycling philosophy in Amsterdam. These range from old living room furniture at the Bloemenbar to 'ruins bar' Roest, which is located in an old factory hall. Such places often have a positive impact on their surroundings. Take for instance my favourite bar Hannekes Boom. Large-scale construction plans ground to a halt but the city wanted to maintain a lively atmosphere in the district, so they organised a design competition for a five-year initiative. Achieving a return on investment over such a short period is quite a challenge. In order to operate on a profit basis, Hannekes Boom was built almost entirely using second-hand materials, often from waste containers. The place has a real personality and has turned into a hotspot, especially in summer when you can moor your boat right in front of the door.
Another inspiring place is Restaurant Moes, which serves local produce where possible. The interior was designed by Superuse-Studios, architects who work on the principle that what you get from nearby is the best. They create a 'harvest map' for every project, showing nearby locations from where the construction materials can be sourced. For Moes, their eyes fell on the signage lights of Schiphol airport, rubber rolls from the printing industry as table coverings, and timber from cable reels as a building material for the popular restaurant's interior.
The advantage of second-hand materials is that you can build quickly with them. Take sea containers, for instance. When the architects designed restaurant Wijn of Water in Rotterdam, they already knew that the establishment would have to be moved several times. So they decided to construct it out of nine sea containers, since these are easy to move. Amazingly, the raw basic materials have not resulted in an industrial setting. Enjoy a stylish dinner in a sea container with a view of the harbour: long live the crisis
Noorderparkbar, Floraparkweg 1, Amsterdam
Bloemenbar, Handboogstraat 15, Amsterdam
Roest, Czaar Peterstraat 213, Amsterdam
Hannekes Boom, Dijksgracht 4, Amsterdam
Restaurant Moes, Prins Hendrikkade 142 sous, Amsterdam
Restaurant Wijn of Water, Loods Celebes 101, Rotterdam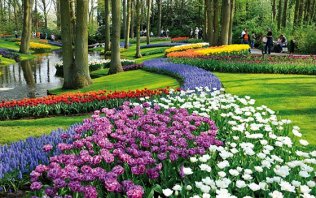 The best place to see tulips in Holland is Keukenhof. Keukenhof is a park with 7 million flower bulbs surrounded by tulip fields.
Read more
Watch this video: Original Dutch Food
Have you ever tried raw herring, apple pie with cinnamon or sauerkraut?
Our recommendations for more Holland information
Vibrant festivals, royal art, canal tours and picnics: enjoy the summer in Holland!

Read more

Undoubtedly one of the jewels of Europe, and not just because of the stunning 17th century canals. Go find out for yourself!

Read more

Book your hotel in Holland well in advance. Check out the most popular places here.


Read more

Holland is the ultimate destination for cycling thanks to its flat landscape, mild climate, short distances and wonderful infrastructure.

Read more