Shopping for designer vintage
Shopping for designer vintage
Denise Mosbach, Monday, March 18, 2013 , 1,144 Views
Shopping for designer vintage
Vintage fashion started becoming popular in the sixties. Following a dip in the eighties and nineties, vintage has now made a full recovery and we could argue that we currently find ourselves in what is best described as a neo-vintage phase. 'It has become such a buzzword that anything second-hand is branded 'vintage' these days,' says Caroline Brakel, Fashion Editor for Dutch fashion magazines JFK and Jackie. However, something can only officially be called vintage if it originates from the fifties, sixties and seventies (and eighties since we've entered the new millennium). 'Like a sixties Yves Laurent handbag or an eighties Emporio Armani suit, for instance.'
Read more
Vintage fashion started becoming popular in the sixties. Following a dip in the eighties and nineties, vintage has now made a full recovery and we could argue that we currently find ourselves in what is best described as a neo-vintage phase. 'It has become such a buzzword that anything second-hand is branded 'vintage' these days,' says Caroline Brakel, Fashion Editor for Dutch fashion magazines JFK and Jackie. However, something can only officially be called vintage if it originates from the fifties, sixties and seventies (and eighties since we've entered the new millennium). 'Like a sixties Yves Laurent handbag or an eighties Emporio Armani suit, for instance.'
If at first we were somewhat reticent to be seen in second-hand cloths, since the stars started wearing it on the red carpet we've lost all shame. Vintage is hot and really old design pieces are becoming increasingly hard to find. It is therefore not surprising that this trend has brought forth another: Designer Vintage, second-hand clothing from famous brands, sometimes no more than a few years old. Great examples can be found at PS atelier (oude Spiegelstraat 10) or Spiegelbeeld (Huidenstraat 24) in Amsterdam where you can find clothing and accessories from such designers as Marc Jacobs, Chloe, Dries van Noten, Marni and Chanel.
In addition to the more expensive designer brands, 'simply second-hand' also remains a source of inspiration for fashionista's. Caroline: 'Nice jackets with shoulder pads from the eighties are currently very popular and for men it's long woollen winter coats that are often beautifully made.' In Amsterdam you can find some great examples at the Monday market on Noordermarkt or at the daily flea market on Waterlooplein. And for great second-hand shops, a visit to the idyllic 'Negen Straatjes' is a must. Laura Dols (Wolvenstraat 7) and Zipper (Huidenstraat 7) offer a varied and constantly changing range. And let's not forget Episode, a shop that's filled to the brim with reasonably priced pieces and also boasts 'customized vintage', old cloths made to look new (Berenstraat 1, Amsterdam).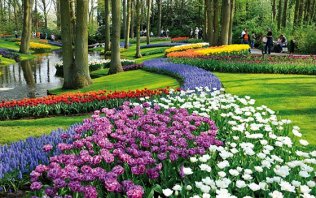 The best place to see tulips in Holland is Keukenhof. Keukenhof is a park with 7 million flower bulbs surrounded by tulip fields.
Read more
Our recommendations for more Holland information
Vibrant festivals, royal art, canal tours and picnics: enjoy the summer in Holland!

Read more

Undoubtedly one of the jewels of Europe, and not just because of the stunning 17th century canals. Go find out for yourself!

Read more

Book your hotel in Holland well in advance. Check out the most popular places here.


Read more

Holland is the ultimate destination for cycling thanks to its flat landscape, mild climate, short distances and wonderful infrastructure.

Read more