The Toneelschuur in Haarlem is one of the most popular cultural meeting spots in town. This is where locals of all ages and backgrounds come to see a play or catch a movie. If you want to see a play, go to the Toneelschuur ('theatre barn'); the Filmschuur ('movie barn') is the place to go if you want to see a movie.
Café
Join the 'in crowd' at the Toneelschuur café before or after the show. Enjoy the pleasant atmosphere at the bar, one of the tables or the reading table and treat yourself to a drink and a bite to eat. It is such a great place that many visitors simply stay there instead of going to the movies or theatre.
Movies/theatre
The Toneelschuur is the place to go for movies and theatre shows. Performances start early in the afternoon, with the last show starting at about 10 in the evening. The café is open until 2 in the morning from Thursday through to Saturday. So you and your friends or family can also go there to talk about the movie or play that you just saw.
What's nearby
Show on map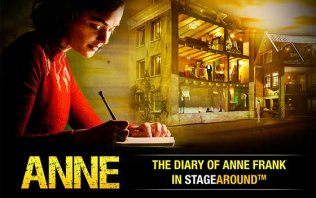 See ANNE in Theater Amsterdam! A unique play, translated into 8 languages, about the life of Anne Frank.
Read More
More in this city
Haarlem station is an extraordinary building in Art Nouveau style.

Read More

Haarlem's beautiful Stadsschouwburg theatre has a fascinating history.

Read More

Go for a lovely walk through this centuries-old park in Haarlem.

Read More

Discover what the Haarlem hangman, Heart Day and Holland's oldest city hall have in common.

Read More

One of Holland's best and biggest recreational areas is just outside Haarlem.

Read More

Haarlem's beautiful city centre surrounds the extraordinary Sint Bavokerk.

Read More

Haarlem has been voted 'best shopping city in Holland' more than once. Discover why here.

Read More

We reveal Haarlem's secrets to make your visit even better.

Read More

Hop on a bicycle for the ride from Haarlem to the beach. This itinerary takes you to Bloemendaal in 60 minutes.

Read More

Follow this itinerary to discover the most beautiful monuments and main highlights of Haarlem.

Read More

Ride your bicycle through the Bulb Region to the Keukenhof garden park.

Read More

Visit Haarlem on an empty stomach because this city has a rich culinary offering with spectacular highlights.

Read More

The Philharmonie is the musical centre of Haarlem.

Read More

Find the best cafés, terraces and pop stages in Haarlem for a night on the town here.

Read More

Europe's biggest playground can be found in Holland and is called Linnaeushof!

Read More

Haarlem is a city of courtyards that boasts more than 20 idyllic 'hofjes'.

Read More

Explore the canals of Haarlem and see the old city centre from a different perspective.

Read More

The psychiatry museum opens up the world of mental disorders in a surprising interactive manner.

Read More

The Hoofdwacht, the city's oldest building, provided protection for Haarlem for centuries.

Read More

The museum of modern and contemporary art in the centuries-old Vleeshal in Haarlem.

Read More

Everything is about architecture in Haarlem and surrounding areas.

Read More

The rebuilt Molen de Adriaan windmill sits on the scenic Spaarne River in Haarlem.

Read More

Holland's first and oldest public museum.

Read More

The largest collection of Frans Hals paintings in the world.

Read More
Our recommendations for more Holland information
Winter in Holland is magical and we like to make things extra warm and cosy during the dark days of the year. Therefore we selected the best best tips for you; from New Year's Eve in Amsterdam, the best ice-skating rinks, christmas shopping and many more.

Read More

Undoubtedly one of the jewels of Europe, and not just because of the stunning 17th century canals. Go find out for yourself!

Read More

Hotels in special locations, luxurious or low-budget. Book your hotel room at attractive rates here.


Read More

Holland is the ultimate destination for cycling thanks to its flat landscape, mild climate, short distances and wonderful infrastructure.

Read More