Viva España en Holanda
Racheda Kooijman, Monday, January 7, 2013 , 249 Views
Viva España en Holanda
Could it be that secretly a passionate Spaniard lurks in every Dutchman? Are the calm and collected Dutch in reality all fire and passion within? If so, it would explain why Spain is a favourite holiday destination and why the flamenco is so popular in the Netherlands. Every major city boasts popular flamenco schools and tickets sell out rapidly when Spanish artists hit the Dutch stages. The first Biennale in 2006 was therefore but a matter of time, and ever since, the best Spanish flamenco artists have been gathering here every two years to demonstrate the latest developments. And as a result of cross-pollination with other music cultures and genres, the organisers refer to it as "Flamenco in many different keys."
Read more
Could it be that secretly a passionate Spaniard lurks in every Dutchman?  Are the calm and collected Dutch in reality all fire and passion within? If so, it would explain why Spain is a favourite holiday destination and why the flamenco is so popular in the Netherlands. Every major city boasts popular flamenco schools and tickets sell out rapidly when Spanish artists hit the Dutch stages. The first Biennale in 2006 was therefore but a matter of time, and ever since, the best Spanish flamenco artists have been gathering here every two years to demonstrate the latest developments. And as a result of cross-pollination with other music cultures and genres, the organisers refer to it as "Flamenco in many different keys."
Don't expect polka dot dresses, Spanish fans, ole-shouting and other clichés at the Biennale. Flamenco is portrayed as an art form here and that's exactly what it is. The many rhythms, deep-rooted emotions and intense lyrics are accompanied by dances that exude physical control, strength and beauty.
Each festival features big names and promising talents and this year is no different. Belén Maya & Mayte Martín, Isabel Bayón, Diego Carrasco. They are all artists with a proven track-record that have innovated the industry. And should a visit to the Biennale be your first introduction to the flamenco, be sure not to miss the voice of Carmen Linares, guitar virtuoso Diego Del Morao and the phenomenal dance moves of Israel Galván.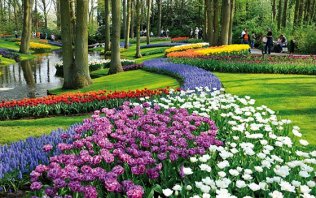 The best place to see tulips in Holland is Keukenhof. Keukenhof is a park with 7 million flower bulbs surrounded by tulip fields.
Read more
Our recommendations for more Holland information
Vibrant festivals, royal art, canal tours and picnics: enjoy the summer in Holland!

Read more

Undoubtedly one of the jewels of Europe, and not just because of the stunning 17th century canals. Go find out for yourself!

Read more

Book your hotel in Holland well in advance. Check out the most popular places here.


Read more

Holland is the ultimate destination for cycling thanks to its flat landscape, mild climate, short distances and wonderful infrastructure.

Read more