Westergasfabriek
776 Views
The Westergasfabriek (Western Gas Plant) is a brilliantly renovated historical area in West Amsterdam and is now a thriving cultural park. Creative entrepreneurs have settled in the beautiful old buildings and a great number of popular events, including Amsterdam Dance Event and the Unseen Photo Fair, are held at this location.
Located in the beautiful Westerpark
Former Gas Plant
Cultural and innovative hotspot
Experience the transformation!
This beautiful cultural park in Amsterdam was originally the site of a gas plant, supplying the street lanterns with gas in order to light up the otherwise dark and unwelcoming streets. The plant was built in 1885 according to the Hollandsche Neorenaissance style design of Amsterdam architect Isaac Godschalk. In 1992 the buildings that were formerly used as the gas plant were given a new chance at life when cultural and creative activities were temporarily hosted at the Westergasfabriek.
Creative and innovating projects
The adventurous art projects and vibrant festivals attracted so many young and creative visitors to this area that it soon became the innovative hub of Amsterdam. The creative energy was so appealing that the Westergasfabriek was soon turned into a permanent cultural park. This area screams art and creation.
Westergasfabriek at night
There is almost something slightly eerie about going to a festival or exhibition at the old gas plant, but it truly is an amazing experience. On the edge of a beautiful park surrounded by wonderful restaurants such as De Culinaire Werkplaats and Proef, this area sets the scene for a great night out.

What's nearby
Show on map
Address:
Polonceaukade 27
1014DA Amsterdam
Blog: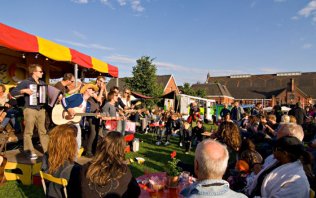 Marloes Tervoort
Marloes Tervoort doesn't mind the cycle ride across town, for no other place in Amsterdam offers more great nightlife opportunities per square foot than Cultuurpark Westerpark.
Read More