Monnickendam was granted city charter in 1355 and this was the beginning of the expansion of the city. Unfortunately, no 14th-century illustrations have been preserved. However, the very fact that it was granted city charter, does tell us that the population was quite sizeable and that Monnickendam was of economic importance.
History of Monnickendam
Due to the city's location on the coast of the former Zuiderzee ('Southern Sea') and close to the lakes in the hinterland, the shipping industry and related trade flourished. All buildings from 1355, with the exception of the Speel Tower, went up in flames during severe fires. The Speel Tower can still be admired, next to the weighing house, the 'Waag'.
Monuments
The above-mentioned Speel Tower is one of the city's monuments and houses a museum. Other monuments include the Grote or Sint Nicolaas Church, the wooden drawbridge across the harbor, and many of the houses. 
More in this region
Dutch life in the 17th and 18th centuries.

Read More

Get to know the Netherlands from the 17th and 18th century.

Read More

Art, design and fashion regarding the former Southern Sea.

Read More

The oldest area of reclaimed land in Holland.

Read More
What's nearby
Show on map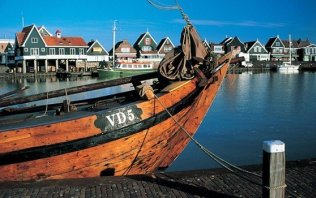 Discover Holland's hidden treasures, which are well worth to explore.
Read More
Search for your holiday home
Check out our extensive offers.
2000 holiday homes throughout Holland.
On the coast, in a natural environment or near cities