Miniature park Madurodam is situated just an hour drive from Amsterdam and the tulip fields and is the ultimate place to discover what makes Holland so unique. Canal houses, tulip fields, cheese market, windmills, Peace Palace, Deltaworks: you will find them all in Madurodam.
Madurodam brings Holland to life
In Madurodam the miniatures and their stories come to life. There is so much to see, discover and do. Madurodam now tells you the stories behind the miniature buildings and about the history of Holland through multimedia.
Madurodam is interactive: you can operate the Oosterschelde storm surge barrier yourself, load containers on a cargo ship in the Port of Rotterdam, take off with a plane from Schiphol Airport and make a bid at the flower auction.
Madurodam is divided into three theme areas: The City Centre, Water World and Innovation Island. In The City you will find the most beautiful buildings of the old cities of Holland. Waterland tells the story of 'water as friend and foe' and Innovation Island represents Holland as a source of inspiration for the world (architecture, innovations, sports, entertainment and design).

Visit Madurodam
The Madurodam shop offers a wide arrangement of surprising Dutch products and souvenirs: very Dutch but just a bit different. In Grand Café "Panorama" and restaurant "Taste of Holland" you can order typical Dutch dishes. Other highlights near Madurodam are Panorama Mesdag, Gemeentemuseum Den Haag and Scheveningen.
More attractions
Get to know The Hague from the water with the Ooievaart; a boat trip on the canals of The Hague.

Read More

No city in Holland has more courtyards than The Hague. Take a walk and discover these hidden courtyards.

Read More

Make a small bet at the endurance and trotting horse races held at Duindigt Race Track.

Read More

Surf the best waves caused by an artificial reef and meet other surfers in F.A.S.T., the surfers village.

Read More

The Hague Market is the biggest market in Europe. 500 stalls sell just about anything you can think of.

Read More

Enjoy wide-screen films in the Omniversum; the only IMAX dome theatre in Europe.

Read More

Various (inter)national sporting events are organised on the beach of Scheveningen between May and September.

Read More

The most enjoyable and picturesque squares in The Hague.

Read More

One of the largest panoramas in the world.

Read More

Sensational rollercoasters and the best swimmingpool in Europe.

Read More

Beaches, beach clubs, water sports facilities: Scheveningen has it all!

Read More
What's nearby
Show on map
Address:
George Maduroplein 1
2584RZ The Hague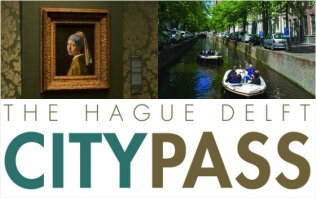 The Hague - Delft City Pass offers free and discounted entrance to a wide range of museums, attractions, restaurants and shops in the Hague and Delft and even free public transport.
Read More