Scheveningen is without a doubt the most popular seaside resort in the Netherlands. The beach is ideal for sunbathers and water sports fans. Apart from the beach, Scheveningen offers many forms of entertainment, such as a cinema, theater, casino, museums, a bowling alley, shopping promenade, surf schools, sports events and numerous restaurants, beach pavilions, beachclubs and beachparties.
Scheveningen Highlights

Whether it's sunny or not, these are some Scheveningen's highlights  that are always worth your while to visit. The Pier of Scheveningen has a viewing point from whuich you can look out over the sea, the beach, the boulevard and the magnificent Kurhaus. Discover the marine world at SEA LIFE Scheveningen. In case you're looking for a cultural experience, one of the most amazing sculpture gardens in the world, Sculptures by the Sea, is situated in the dunes. Last but definitely not least, Scheveningen has great waves and is the surf city of Holland.

Good Times in Scheveningen

Scheveningen is more than just long, sandy beaches. It is a place where sunbathers, water sport fanatics, nature lovers and people who want to party or relax come together. If you want to do something fun, the possibilities in Scheveningen are endless.
Find out more about The Hague or the attractions of The Hague.
More attractions
Get to know The Hague from the water with the Ooievaart; a boat trip on the canals of The Hague.

Read More

No city in Holland has more courtyards than The Hague. Take a walk and discover these hidden courtyards.

Read More

Make a small bet at the endurance and trotting horse races held at Duindigt Race Track.

Read More

Surf the best waves caused by an artificial reef and meet other surfers in F.A.S.T., the surfers village.

Read More

The Hague Market is the biggest market in Europe. 500 stalls sell just about anything you can think of.

Read More

Enjoy wide-screen films in the Omniversum; the only IMAX dome theatre in Europe.

Read More

Various (inter)national sporting events are organised on the beach of Scheveningen between May and September.

Read More

The most enjoyable and picturesque squares in The Hague.

Read More

One of the largest panoramas in the world.

Read More

Sensational rollercoasters and the best swimmingpool in Europe.

Read More
What's nearby
Show on map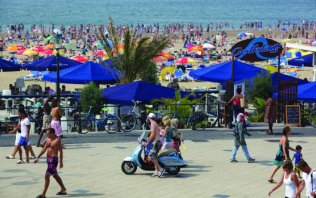 Scheveningen is the most popular seaside resort in Holland, located next to The Hague.
Read More