The Ooievaart is the canal boat trip of The Hague. Get to know The Hague from a unique perspective while being told many interesting facts. The boat departs from the Bierkade all year round. During the 90-minute trip you will see several highlights that include the stately houses along the Mauritskade and Hooikade, the Palace Gardens and the Malieveld.
Canals of The Hague
The Hague used to be a real canal city, with numerous boats discharging goods at the city's inland ports for sale on the many local markets. However, the absence of a river in The Hague worked against the favour of the currents. Waste sank to the bottom of the canals, and the stench soon became unbearable. Many of the canals were therefore filled in between 1640 and 1910. Thankfully, enough canals still remain for the Ooievaart to offer you a wonderful boat trip through and around the centre of The Hague.
Ticket sales
Experience a canal trip through The Hague and buy tickets online or on location at Wagenstraat 193. Make sure to specify the language you want spoken during the boat trip (Dutch, English, German or Spanish). You might even consider renting a boat if you're part of a larger group. You can already rent a boat plus guide for € 250.
More attractions
No city in Holland has more courtyards than The Hague. Take a walk and discover these hidden courtyards.

Read More

Make a small bet at the endurance and trotting horse races held at Duindigt Race Track.

Read More

Surf the best waves caused by an artificial reef and meet other surfers in F.A.S.T., the surfers village.

Read More

The Hague Market is the biggest market in Europe. 500 stalls sell just about anything you can think of.

Read More

Enjoy wide-screen films in the Omniversum; the only IMAX dome theatre in Europe.

Read More

Various (inter)national sporting events are organised on the beach of Scheveningen between May and September.

Read More

The most enjoyable and picturesque squares in The Hague.

Read More

One of the largest panoramas in the world.

Read More

Sensational rollercoasters and the best swimmingpool in Europe.

Read More

Beaches, beach clubs, water sports facilities: Scheveningen has it all!

Read More
What's nearby
Show on map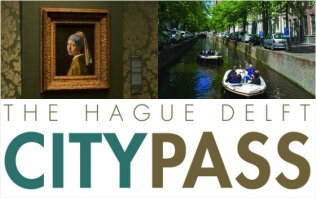 The Hague - Delft City Pass offers free and discounted entrance to a wide range of museums, attractions, restaurants and shops in the Hague and Delft and even free public transport.
Read More