10x restaurants in The Hague
10x restaurants in The Hague
1711 Views
The Hague, chic government city of Holland, has much to offer in terms of the culinary arts as well. Which makes sense, of course. With fresh fish from Scheveningen, Asian influences from China Town, and spicy notes from the former colonies, there are many culinary pleasures to discover in The Hague – from French to Asian and from brasserie to Michelin-star restaurants.
The Hague offers culinary influences from around the world.
The city boasts three Michelin-star restaurants.
Discover the ten best restaurants in The Hague here.
We have selected the top 10 restaurants in the city for you:
1. Set Genki Tei
Wonderful Japanese food is served at a fair price in this minimalist interior, which surrounds you with natural materials.
Address: Schoolstraat 4, The Hague
2. Seinpost *
Seinpost cooks with respect for nature. Pure ingredients are lovingly and authentically prepared and combined into creative dishes. A place that has earned its Michelin star!
Address: Zeekant 60, Scheveningen
3. Calla's *
Stylish and intimate Calla's restaurant is located in a chic district in The Hague. The restaurant serves top-notch food, which has earned it a Michelin star. Reserve the 'chef's table' for an extra special culinary adventure!
Address: Laan van roos en doorn 51A, The Hague
4. Han Ting Cuisine*
The best of French and Asian cuisine combined in surprising, extraordinarily flavourful dishes. Definitely worth the Michelin star in our opinion.
Address: Prinsestraat33, The Hague
5. Restaurant Mazie
This restaurant is somewhat hidden in a small alley off Noordeinde. It uses plenty of organic produce to create wonderful seasonal dishes. You may have to search for it but it will be worth your effort!
Address: Maziestraat 10, The Hague
6. The Raffles
Original, fresh dishes with many fresh herbs and spices that are used in the archipelago, Malaysia and Singapore. The Raffles has put Indonesian cuisine on the culinary map in Holland.
Address: Javastraat 63, The Hague
7. George
You will find this wonderful restaurant with its menu full of classics with a modern twist near the lock in Leidschendam. It also serves a range of excellent wines!
Address: Sluisplein 9, Leidschendam
8. Basaal
Staff serve great dishes made with fresh produce, delicious wines and special digestive liqueurs in cosy, contemporary surroundings. The terrace is a welcoming place if the weather is good.
Address: Dunne Bierkade 3, The Hague
9. Maxime
This lively part of The Hague offers a taste of Paris at Maxime's. It is listed with a Bib Gourmand in the Michelin guide, which it has definitely earned.
Address: Denneweg 10B, The Hague
10. Les Ombrelles
A very pleasant restaurant filled to the brim with parasols, also known as Ombrelles. Its chef loves fish and shellfish, preferably in French style with a range of original details.
Address: Hooistraat 4a, The Hague


What's nearby
Show on map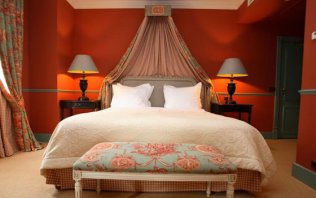 91 hotels in The Hague. Spend the night in a stately hotel, or book a stay in an apartment.
View the offer