Architecture in Utrecht
Visit Utrecht and the master of design; Gerrit Rietveld. He was the architect of the Rietveld Schröder House in Utrecht. The building with UNESCO status is considered the most influential domestic building of the early modern period.
An architectonic highlight by Gerrit Rietveld.

Read More

Take a tour of Stadskasteel Oudaen, learn everything about this medieval defensive tower house and enjoy the brewery.

Read More

De Uithof, the university quarter of Utrecht, is characterised by unique buildings and pioneering architecture.

Read More

A Gesamtkunstwerk of space and design

Read More

Visit the Academiegebouw on Domplein square.

Read More

Enjoy the silence at Pandhof van Sinte Marie.

Read More

The Winkel van Sinkel is a striking building that used to be the first deparment store of Holland. Today you can drink, dine and dance here.

Read More
Map of Utrecht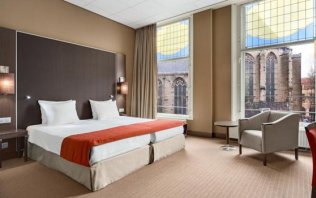 There are plenty of hotels in Utrecht's inner city. Book now and pay during your stay.
Book now