10x restaurants in Utrecht
10x restaurants in Utrecht
1751 Views
Utrecht's pleasant city centre is the place to be for foodies. It boasts a wide variety of eateries, lunchrooms, bakeries, delis, chocolatiers and above all, many high-quality restaurants. It offers a great location for every moment of the day, every age and every budget.
Discover Utrecht's pleasant centre with great restaurants.
Utrecht boasts three Michelin-star restaurants.
View our list of 10 best restaurants in and around Utrecht.
We have selected the 10 best restaurants for you:
1. Le Connaisseur
Situated in a monumental building with beautiful ceilings, Le Connoisseur is located in the centre of Utrecht. It serves beautiful dishes, in summer on a nice outdoor terrace. Definitely a place to enjoy!
Address: Oudegracht 59, Utrecht
2. Wilhelminapark 
The beautiful Wilhelminapark serves as the backdrop for a gorgeous building inspired by the Amsterdam School and English mansions, which serves exclusive lunches and dinners.
Address: Wilhelminapark 65, Utrecht
3. Restaurant Goesting
Goesting is located in an old veterinary school. Enjoy top of the notch food and ditto wines in its wonderful modern interior.
Address: Veeartsenijpad 150, Utrecht
4. Oudean
Classical restaurant in an impressive thirteenth-century castle. Centuries ago, knights and their ladies stood where you will now find the bar and restaurant. A wonderful place for those with deeper pockets.
Address: Oude gracht 99, Utrecht
5. Mi Madre
Typically Spanish so there is plenty of garlic in the beautiful hot and cold dishes. At the end of their meal, guests write and draw on the walls.
Address: Neude 31, Utrecht
6. De Garde
Recommended for culinary experts. This restaurant serves new dishes made with fresh regional produce on a regular basis and offers an impressive wine menu.
Address: Drieharingenstraat 10/12, Utrecht
7. Slangevegt
This beautiful monument from 1700 near the Vecht river boasts an interior with modern and classical elements. It serves the best, purest dishes and offers special wines, too!
Address: Straatweg 40, Breukelen
8. 't Amsterdammertje *
This gorgeous monumental building sees chef André Gerrits prepare his innovative food with international influences. They earned him a Michelin star so you can be sure they are filled with flavour!
Address:  Rijksstraatweg 119, Loenen aan de Vecht
9. Tante Koosje *
Its nostalgic atmosphere and excellent kitchen have made this restaurant famous throughout Holland and earned it a Michelin star. Perfect food and perfect wines – in summer you can almost picture yourself in France on its beautiful flowery terrace in the shadows of the church.
Address: Kerkstraat 1, Loenen aan de Vecht
10. De Nederlanden *
Patron Cuisinier Wilco Berends and sous-chef Otto Genz serve the most wonderful dishes with typically northern Dutch influences. A special restaurant that has earned its Michelin star.
Address: Duinkerken 3, Vreeland
What's nearby
Show on map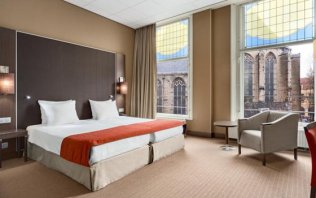 There are plenty of hotels in Utrecht's inner city. Book now and pay during your stay.
Book now