Cycling Route Wetter (48 km)
Cycling Route Wetter (48 km)
109 Views
Cycling Route Wetter (48 km)
Cycling in Friesland means riding through the most extensive water network in Europe. You will see waterways, Friesian lakes and UNESCO World Heritage Sites.
Read more
This route shows off all aspects of the Friesian 'Wetter' (Friesian for water). You will cycle past several waterways and well-known Friesian lakes with breathtaking views. Naturally you will also discover the world's oldest operational steam pumping station, the Woudagemaal.
Water-rich Friesland
In this most water-rich part of Friesland, you will cycle through beautiful meadows and extraordinary natural landscapes. The route guides you to several attractions that are well worth a stop. In addition to the Woudagemaal and the port town of Lemmer, these include Museum Joure and the noble estate of Herema State, which lies in a beautiful park and today serves as a town hall.
Worth stopping for
The pleasant Eleven Cities town of Sloten is a good place to take a break as well. In addition to its beautiful center with historic buildings, you can explore grain mill De Kaai. On Saturdays, the mill is often open for visitors and to sell flower. Ready for a cup of coffee or lunch? Find a table in one of the pleasant restaurants in the village or on one of the welcoming terraces along the route.
Editors' tip:
Former Zuiderzee towns like Makkum, Workum, Stavoren and Hindeloopen are located on the Friesian coast. These are picturesque port towns that are wonderful to stroll around or end your day with dinner by the water.
Practical information
Number of kilometers: 48
Nodes: 80, 79, 62, 84, 91, 58, 60, 77, 15, 53, 42, 43, 44, 45, 46, 51, 47, 52, 78, 54, 55, 57, 83, 82, 63, 69
Start and end point: VVV de Friese Meren-Gaasterland, Midstraat 99, 8501 AH, Joure, T +31 (0)513 416 030
Addresses you will pass on the way
Museum Joure, Geelgietersstraat 1, 8501 CA, Joure, T +31 (0)513 412 283
Noble estate Herema State, Herema State 1, 8501 AA, Joure
Grain mill De Kaai, Bolwerk Zuidzijde 81, 8556 XS Sloten, T +31 (0)6 4178 8003
UNESCO World Heritage Site Woudagemaal, Gemaalweg 1, 8531 PS Lemmer, +31 (0)514 561 81
Search for your holiday home
Check out our extensive offers.
2000 holiday homes throughout Holland.
On the coast, in a natural environment or near cities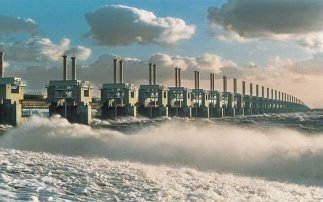 No less than 26 per cent of our country lies below sea level. See and experience how we manage and enjoy our water in a variety of places.
Read more
Do you like this theme? You might also like: