Zwolle
Zwolle is a lively Hanseatic town with a Medieval centre. The city is pre-eminently suited for a weekend of shopping, cultural immersion and good food. During the Golden Age, Zwolle quickly grew into a powerful Hanseatic city. You can still experience the prosperity and liveliness of those times when you visit Zwolle.
Read more
Zwolle is a beautiful mercantile town with a Medieval centre. It is an excellent destination for a weekend of absorbing culture, shopping and good food. In the Dutch Golden Century, Zwolle rapidly developed into a powerful Hanseatic town, and the resultant wealth and liveliness can still be felt when visiting Zwolle.
Stroll through the historic inner city and visit the Gothic St Michael's Church.
Try such local delicacies as peperbuskaas, balletjes and Blauwvingerkoekjes.
Visit the ice sculpture exhibition in winter.
What to do in Zwolle
Zwolle has a Medieval centre, gorgeous theatres, a broad range of shops, excellent hotels and restaurants and many splendid parks. In other words, Zwolle has everything one might expect a modern-day city to have, without compromising the intimacy of its history. The historic facades, city walls and towers, the 600-year-old Sassenpoort gate and star-shaped city moat, flanked by monumental merchant's homes and trees still characterise this city, and its beautiful alleys and impressive fortifications still beg to be explored.

The main characteristic landmark of Zwolle is the Peperbustoren, or Pepper Mill Tower, the 75-metre-high tower of the Basilica of Our Lady, which has been an eye-catcher since the fourteenth century. If you wish, you can climb the tower – it commands a breath-taking view of the city.
If going on a city trip to Zwolle, there are a number of highlights you cannot afford to miss. The 15th-century Great or St Michael's Church, to begin with, has a rich cultural and historical past. It is famous for its Gothic architecture, its many monuments and the world-famous four-manual Schnitger organ (1721). Museum De Fundatie has interesting exhibitions to offer, with venues in both Heino and Zwolle. And be sure to drop in at one of the city's many culinary establishments to try regional produce, such as Zwolle mustard, peperbuskaas (spicy cheese named for the Pepper Mill Tower), balletjes and Blauwvingerkoekjes.
Where to eat in Zwolle
Restaurant de Hofvlietvilla (Pannekoekendijk 6) is located in an old villa by Zwolle's moat, with a splendid terrace by the water's edge. You are also certain to enjoy Pestengasthuys (Weversgildeplein 1), which serves very enjoyable courses.  In the brasserie corner, there is Brasserie Jansen (Nieuwe Markt 14), located in a number of ancient buildings, and it has exceptionally friendly. The meatball on the menu uses the recipe of chef Johnnie Boer (owner of the Michelin-starred restaurant De Librije in Zwolle).
Accommodation
Zwolle has a lot of great hotels and bed and breakfasts where you can stay when visiting this historic city. Check out our offerings here.


Editors' tip:
During winter every year, Zwolle's centre takes on a winter theme with the most beautiful of snow and ice sculptures. Dozens of Dutch and international artists come to Zwolle to create and exhibit their unique works of art on Rodetorenplein square.
Search for your holiday home
Check out our extensive offers.
2000 holiday homes throughout Holland.
On the coast, in a natural environment or near cities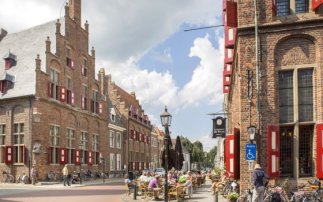 Discover more about the Hansa towns of Holland.
Read more
Do you like this theme? You might also like:
Historic Hanseatic town on IJsselmeer lake with many monuments and excellent restaurants.

Read more