Cafés and terraces in Rotterdam
Cafés and terraces in Rotterdam
3,645 Views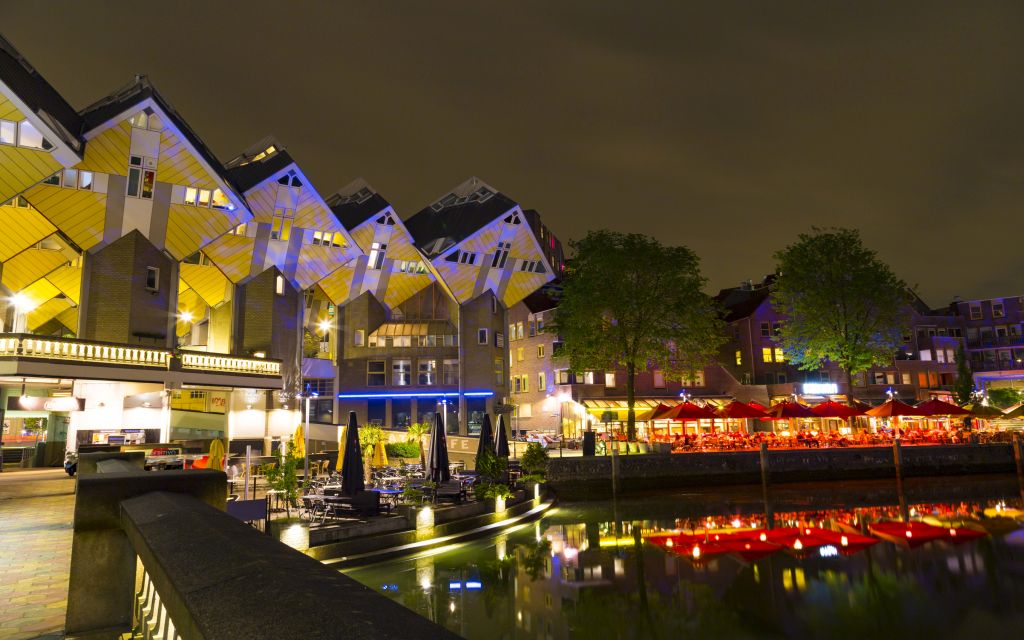 Cafés and terraces in Rotterdam
Old port city and new metropolis, Rotterdam is both. So if you feel like relaxing with a drink after an afternoon of strolling through Rotterdam's city centre, you can pick an old-fashioned pub for real 'seadogs' or a super trendy club. Rotterdam has options to suit every age, budget and preference. We have selected a few convivial addresses for you so you won't have to waste any time choosing...
Read more
Rotterdam is a city of many faces: robust port city, classy shopping city, hip artists' city and, above all, the city of architecture in Holland. In addition to the many sights worth seeing, Rotterdam is home to a large variety of restaurants, cafes and terraces that will gladly welcome you for a tasty snack and a refreshing drink!
Discover the most pleasant, hippest, and best-known cafes and terraces that Rotterdam has to offer
Take a water taxi to one of the many waterside terraces.
A list of the top 10 terraces and cafes.
5x cafes in Rotterdam
1. De witte aap
It is not without reason that De witte aap has been elected the best bar in the world! Ever since the 90s, this bar has been home to the best that funk, groove, hip hop and dance have to offer, and fresh art graces its wall every month. Definitely worth a visit! Address: Witte de Withstraat 78
2. 1NUL8
1NUL8 Wijnbar, brasserie and café in one in the center of Rotterdam. 1NUL8 is among the hippest places to be right now. You can walk in all day and evening and enjoy the DJ's great beats. Too bad it closes as early as 02:00 in the weekends! Address: Meent 108

3. De Zondebok & Het zwarte schaap
A cafe for connoisseurs with a terrific ambience. Enter and find a broad range of unique whiskies, particularly excellent wines and very delicious coffee produced specially for this cafe. Address: Witte de Withstraat 96
4. Dudok
In a brasserie named after the famous architect Dudok, one expects of course nothing less than that art, culture and architecture are lovingly embraced. Dudok lies in the very heart of rOTTERDAM, and should you decide to drop in for a coffee, do try the apple pie. Address: Meent 88
5. Verhip
This former harbour cafe lying in the modern Lloyd Quarter, where many audiovisual and internet companies are located, is popular among the hip and creative segment of Rotterdam's people. That aside, it's a true harbour cafe, with ship models and posters galore. Across from the cafe lies the St. Jobshaven (St. Job's Harbour), where you can step aboard a water taxi. Address: St. Jobsweg 21
5x terraces in Rotterdam
1. Maaskant (Hotel New York)
Have a drink at on the terrace of (the former headquarters of the Holland America Line), with a fantastic view over the New Meuse. Address: Koninginnehoofd 1, Wilhelminapier
2. Popocatepetl The Mexican
The terrace of Popocatepetl The Mexican in the Old Harbour is one of Holland's best. Enjoy Mexican snacks, beers and cocktails. Our tip: order a Mexican Bulldog Margarita.
Address: Spaanse Poort 71
3. De Tuin (van de vier windstreken)
At the edge of the lake known as the Kralingse Plas, with a great view of the skyline of Rotterdam, De Tuin is one of the most popular terraces the city has to offer, and not without reason. Address: Plaszoom 354
4. Stoomschip SS Rotterdam
Experience the feel of a luxury cruise while enjoying a drink by the swimming pool on the rear deck, with a view over the river. A unique terrace if there ever was one! Address: 3e Katendrechtsehoofd 25
5. Het Nieuwe Instituut
Combining museum, library, archive and cultural stage into one venue, Het Nieuwe Instituut is the ideal spot for culture lovers. The gorgeous terrace with its unique pond has been declared one of the best terraces in the country. Address: Museumpark 25