Erasmus Bridge Rotterdam
14472 Views
Erasmus Bridge Rotterdam
The Erasmus Bridge is one of Rotterdam's icons. This architectonic highlight plays host to great events and is of great importance to the city of Rotterdam. Who knows what might be happening when you visit this enormous bridge in Rotterdam.
Read more
The 'Erasmusbrug' (Erasmus Bridge) is one of the icons of Rotterdam. One of Holland's most famous bridges, it was officially opened by Queen Beatrix in 1996 as an important connection between the Northern and Southern parts of Rotterdam.
Facts of the Bridge
Ben van created this characteristic bridge. The bridge is 800 meters long and has a 139 meter high pylon which is fastened by 32 stays. The bridge is also known as 'The Swan'.
Events at the Erasmus Bridge
The Erasmus Bridge has been the center of many spectacles, such as the Marathon of Rotterdam, Hollywood movies, Red Bull Air Races, dance events and the Tour de France. Who knows what might be happening when you visit the enormous bridge in Rotterdam.
Spend the night in Rotterdam
Would you like to stay in Rotterdam to explore more? You can! We have a broad range of great hotels and bed and breakfasts for you.
Click here to go back to the Rotterdam or the architecture in Rotterdam page.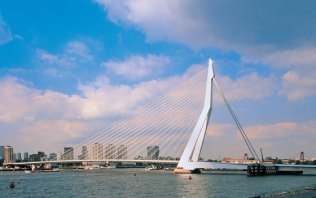 Rotterdam is a young and dynamic city with a world-class port. The city of Rotterdam is internationally known for its modern architecture and design.
Read more