Het Nieuwe Instituut
1386 Views
Het Nieuwe Instituut informs, inspires and stimulates visitors about shaping the human space. The past, present and future of architecture are shown and discussed at Het Nieuwe Instituut. The institute is open to the professional field and the general public.
Collections and Exhibitions
The Het Nieuwe Instituut has one of the largest architecture collections in the world. The archive and library contain sketches, journals, models, photographs and over 35.000 books about architecture. The work of every famous Dutch architect since 1800 is represented here.
Exhibitions and symposiums focus on landscape architecture and urban, interior, industrial and graphic design. Both national and international developments are discussed.
The Summit of Architecture
Visiting the Het Nieuwe Instituut is a must for professionals, students of architecture and anyone with a soft spot for the discipline. The institute has visitor tours, education programs and lectures for professionals, (foreign) students and children.
Find out more about museums in Rotterdam or Rotterdam!
What's nearby
Show on map
Address:
Museumpark 25
3015CB Rotterdam
Search for your holiday home
Check out our extensive offers.
2000 holiday homes throughout Holland.
On the coast, in a natural environment or near cities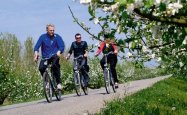 If you want to explore Holland by bicycle, check out our offer of organised bicycle holidays. The bicycle routes include baggage transport!
View the offer