Caves of St. Pieter
10715 Views
Over the centuries, the mining of marl in the caves of St. Pieter has resulted in the formation of a labyrinth with over 20,000 tunnels. The so-called block breakers (marl cutters) as well as various artists have left their marks behind in the form of various texts on the walls, some of which are very old. Today the mines and caves only serve as a tourist attraction.
Refuge for Residents
The mining of the caves probably started in the time of the Romans, but the caves weren't only a source of marl. Throughout the years, they have also served as a place of refuge for residents of the city during the many sieges which Maastricht has endured. Listen to the stories of survivors and watch the facilities that were put in place for those who sought shelter here.
Tour the Caves
The local tourist information office (VVV) can help you select a tour. The temperature in the caves is 9 to 10°C so make sure to bring a sweater or jacket. The guided tours last about one hour and are led by official guides.
Find out more about Maastricht or the attractions of Maastricht.
What's nearby
Show on map
Address:
Luikerweg 71
6212NH Maastricht
Search for your holiday home
Check out our extensive offers.
2000 holiday homes throughout Holland.
On the coast, in a natural environment or near cities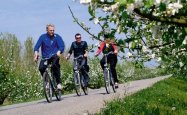 If you want to explore Holland by bicycle, check out our offer of organised bicycle holidays. The bicycle routes include baggage transport!
View the offer