De Biesbosch National Park is one of the few freshwater tidal areas of the world. Several rivers come together to form a freshwater delta of approximately 8,000 hectares. The nature reserve is subjected to the influence of the tides and has unique flora and fauna. The leisure facilities are set up in such a way that you will have everything you need, and sit back to see nature take its course without disturbance.
Beavers, Kingfishers and Sea Eagles
You can stroll or bike through De Biesbosch National Park, but the most exciting way to explore the nature reserve is by boat. You can rent a boat or canoe yourself, or join an organized tour in an electric boat and admire the creeks and willow trees in the Biesbosch. Guides will point out the flora and fauna in this area.
The beaver is the most remarkable animal of the Biesbosch. By now these rodents have built over a hundred lodges in the Biesbosch wetlands. In addition, hundreds of bird species are breeding in the area as well, including some 20 pairs of kingfishers. The sea eagle is a frequent guest, being spotted in the area throughout the year. The Biesbosch is truly a water paradise.
Activities in the Biesbosch
Hiking, boating, canoeing, biking, fishing, birdwatching, horseback riding, and swimming are just some of the things you can do in De Biesbosch National Park. There are excursions throughout the year, such as bird walks, bike/boating trips and hiking excursions. Please contact the visitor centers in Drimmelen and Dordrecht to plan an activity or to receive additional information about the Biesbosch. If you would like to combine the tranquility of nature with the bustle of the city, Dordrecht is only a stone's throw away with its historic center, cafés and terraces.
Visitors centres
There are three visitors centres in the Biesbosch:
Biesboschcentrum Drimmelen
Biesboschweg 4
4924 BB Drimmelen
t: +31 (0)162-682 233
 
Biesbosccentrum Dordrecht
Baanhoekweg 53
3313 LP Dordrecht
t: +31 (0)78 - 630 5353
 
Biesbosch Museum Werkendam
Hilweg 2
4251 MT Werkendam
t: +31 (0)183-5004 009
What's nearby
Show on map
Address:
Biesboschweg 4
4924BB Drimmelen
Search for your holiday home
Check out our extensive offers.
2000 holiday homes throughout Holland.
On the coast, in a natural environment or near cities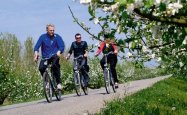 If you want to explore Holland by bicycle, check out our offer of organised bicycle holidays. The bicycle routes include baggage transport!
View the offer