Deventer is a centuries-old Hanseatic town by the banks of the river IJssel. The city embodies its long and rich history, with magnificent monuments, handsome squares and old museums, with a very pleasant atmosphere and plenty of opportunities for those who like to experience a city through its shopping streets, cafes and restaurants.
Visit one of Deventer's many monuments, such as the St. Lebuinus Church.
Stroll through Holland's oldest park, the Worpplantsoen.
Enjoy Deventer's many excellent restaurants.
Be sure to try the local specialty, Deventer koek.
What can you do in Deventer?
If you wish to taste the atmosphere of this centuries-old Hanseatic city, the best thing you can do is take a walk. Walk past the many monuments, squares, churches, museums, and more – there is more than enough to discover. For instance, as well as boasting the oldest stone house in Holland, Deventer is also home to Holland's oldest library, the Atheneumbibliotheek, and Holland's oldest park, the Worpplantsoen.
Two further exceptional buildings in Deventer are the city hall and the beautiful Gothic St. Lebuinus Church, both to be found on the Grote Kerkhof (Great Church Square). Like museums? In that case, you're likely to be very interested in both the Historic Museum (Historisch Museum) and Toy Museum (Speelgoedmuseum). Nature lovers, meanwhile, will find a walk along the riverside positively enchanting.
Should you feel like relaxing by shopping for a bit after immersing yourself in its culture and history, Deventer offers plenty of shopping opportunities to suit any taste and budget. The best shopping streets are the Lange Bisschopstraat, the Korte Bisschopstraat, the Smedenstraat and the Engestraat.
Where to eat in Deventer?
In Deventer's beautiful centre, finding a nice restaurant takes barely any time at all. To help you choose, we've listed the best 3:
1.'t Arsenaal
An excellent restaurant serving French Mediterranean courses made with fresh local produce. This restaurant has been a Bib-Gourmand for years, and with good reason. Address: Nieuwe Markt 33-34
2. Da Mario
Delicious Italian classics, freshly prepared and served with excellent wines. Their tiramisu is a rare delight! Address: Vleeshouwerstraat 4-6, Deventer
3. St Tropez
A special restaurant, whose unorthodox furnishings and wonderful terrace alone make it worth a look. Good menu with an overall French twist. Address: Brink 28
Editor's tip: Visit the Deventer Koekwinkel, which has been producing the world-famous kruidkoek for over 400 years. Jb. Bussink is the only baker producing the true Deventer koek today, according to an ancient, secret recipe.
What's nearby
Show on map
Search for your holiday home
Check out our extensive offers.
2000 holiday homes throughout Holland.
On the coast, in a natural environment or near cities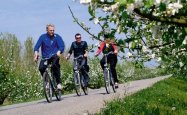 If you want to explore Holland by bicycle, check out our offer of organised bicycle holidays. The bicycle routes include baggage transport!
View the offer