Fort St. Pieter
3260 Views
Relive the sieges of Fort St. Pieter with a guide. You will learn everything about the shooting holes in the moat, the underground passages, the secrets of the well and of course the guns. The tour ends with a look at the mortar gallery and the view from one of the highest points of Maastricht.
Fortification of Maastricht
The Fort St. Peter is one of the most striking parts of the fortifications of Maastricht. This fully restored fort dates from 1701-1702. As you walk through the fort and see the view of Maastricht, you'll immediately understand why the fort was built in such a strategic place and what the opportunities and dangers were for defenders and attackers.
Guided Tours
You can only visit Fort St. Pieter with a guide. You can make reservations at the tourist information office (VVV) in Maastricht. The tour lasts approximately one hour and a quarter and is not accessible for wheelchairs.
Find out more about Maastricht or the attractions of Maastricht.
What's nearby
Show on map
Address:
Luikerweg 71
6212NH Maastricht
Search for your holiday home
Check out our extensive offers.
2000 holiday homes throughout Holland.
On the coast, in a natural environment or near cities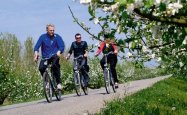 If you want to explore Holland by bicycle, check out our offer of organised bicycle holidays. The bicycle routes include baggage transport!
View the offer