Geelvinck Museum
1443 Views
In the Golden Age (17th century) Amsterdam was one of the world's important trading cities. The merchants and regents, who commissioned huge city palaces in the 'Golden Bend' on the Herengracht canal, were at the height of their power and wealth. Discover their world at the Geelvinck Hinlopen House, which is now called the Geelvinck Museum and shows how the rich and mighty lived at the time.
Period rooms
The former residence of Albert Geelvinck (1647-1693) tells the story of the regent families towards the end of the Golden Age. Explore the unique period rooms with their beautiful furniture, porcelain and glasswork from the Golden Age on the ground floor. Discover how their taste was influenced by the many contacts with other cultures.
Extraordinary historical garden
The beautiful building features a coach house, reception room, period rooms in e.g. Rococo or Neoclassical style and of course a beautiful garden. You should definitely find some time to stroll around! The museum is opened daily from 11:00 to 17:00. Address: Keizersgracht 633, Amsterdam.
What's nearby
Show on map
Search for your holiday home
Check out our extensive offers.
2000 holiday homes throughout Holland.
On the coast, in a natural environment or near cities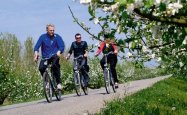 If you want to explore Holland by bicycle, check out our offer of organised bicycle holidays. The bicycle routes include baggage transport!
View the offer