Hanseatic Cities
579 Views
The Dutch 'Hanzesteden' (Hanseatic Cities) are seven towns situated along the river 'IJssel'. In the 14th and 15th century, they formed a traders union that lead to enormous prosperity and wealth. You can still sense the rich history of the cities Hasselt, Kampen, Zwolle, Hattem, Deventer, Zutphen and Doesburg.
Romantic Cities
These seven cities were once important centers of commerce and culture. Today they are pleasant and romantic cities that attract many tourists who want to enjoy the historic character and the local cuisine, shopping possibilities and flora and fauna. Take your time to soak in the breathtaking sceneries around the river IJssel.
Cycling between the Hanseatic Cities
The cities have numerous shops, museums and restaurants and are ideal for a romantic weekend. But it is also highly recommended to rent a bike and explore the surrounding areas with its wooded river dunes, castles and waterfronts of the old Hanseatic League.
What's nearby
Show on map
Search for your holiday home
Check out our extensive offers.
2000 holiday homes throughout Holland.
On the coast, in a natural environment or near cities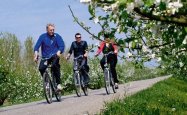 If you want to explore Holland by bicycle, check out our offer of organised bicycle holidays. The bicycle routes include baggage transport!
View the offer