The IJsseldelta National Landscape consists of a polder (a piece of reclaimed land) that is surrounded by the villages of Kampen, Genemuiden, Hasselt, Zwartsluis and Zwolle. The Zuiderzee and mankind have been fighting over this area for centuries. Sometimes pieces of land were swallowed by the water and other times the Dutch once again reclaimed the farmland. Eventually, man had the better end of the stick, but an open landscape with house mounds, creeks, gullies and a peculiar allotment pattern still remind of the years of struggle between man and nature.
Polders and water
Walking, biking or a canoe trip are great ways to experience the flatness of the IJsseldelta National Landscape. On the one hand, the area consists of vast polders, including the oldest polder in the Netherlands - Mastenbroek - with geometrical plots dating back to 1364. On the other hand, there is  an abundance of water, including the Black Lake, formerly part of the Zuiderzee.
The IJsseldelta remains a delta where you will find many drains, creeks, rivers and gullies in addition to the dikes. Water has always played an important role in this country, and today that role is largely recreational. There is no lack of water when you're looking to cool down in spring or summer.
Hanseatic cities along the IJsseldelta
Surrounding the peculiar landscape of the Ijsseldelta, we find Hanseatic cities with a rich history. The cities of Zwolle, Hasselt and Kampen are packed with cultural monuments and interesting history. Ask the local tourist offices (VVV) how to best visit all these highlights.
Cruise companies offer a tour of the IJsseldelta and navigate through the IJssel, the Black Lake and the Black Water past the water sports facilities at Genemuiden and Zwartsluis. Here you can include a visit to the Tapestry Museum in Genemuiden or the Zintuigentuin (the Garden of the Senses) in Zwartsluis. The cruise is a great way to explore the region.
What's nearby
Show on map
Search for your holiday home
Check out our extensive offers.
2000 holiday homes throughout Holland.
On the coast, in a natural environment or near cities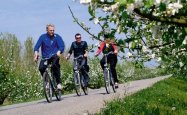 If you want to explore Holland by bicycle, check out our offer of organised bicycle holidays. The bicycle routes include baggage transport!
View the offer