Maastricht walking tours
7462 Views
In Maastricht almost everything is different from the rest of Holland. The legacy of twenty centuries of history is evident in the historic city center. Wherever you go, the interesting vistas, centuries-old churches and lovely facades will intrigue you.
City walk Maastricht
During this walk you will see the prettiest spots in the old city center. You will pass the city walls, park, Jekerkwartier, Vrijthof square and many other highlights of Maastricht. The duration of this city walk is approximately 1.5 hours and is available from the local tourist information office. The detailed route descriptions make it easy to enjoy the two city walks by yourself. However, if you wish, you can have the company of a guide.
Fortification walk
Until the second half of the 19th century, Maastricht was a fortified city; strong walls and bunkers had to protect the city against attacks. The Fortification Walk leads you past the remains of the mediaeval city and some buildings with a military history. The duration of this walk is approximately 2 hours and is available from the local tourist information office.
What's nearby
Show on map
Search for your holiday home
Check out our extensive offers.
2000 holiday homes throughout Holland.
On the coast, in a natural environment or near cities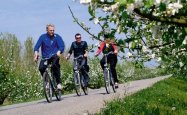 If you want to explore Holland by bicycle, check out our offer of organised bicycle holidays. The bicycle routes include baggage transport!
View the offer